Color Signs and Banners are customized to application needs.
Press Release Summary: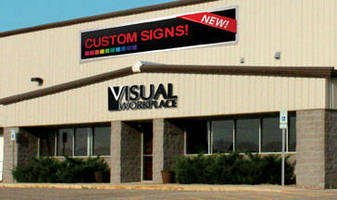 Offered in PVC, acrylic, polycarbonate, and magnetic sheeting as well as ready-to-apply vinyl, Custom Signs are available in sizes up to 46 x 96 in., while Custom Banners come in 6 ft wide by any length. Applications range from safety, directory, and facility signs to key performance boards and visual management boards. For do-it-yourself customers, Mobile In-House Sign Shop lets users create their own signs, banners, and other visuals from scratch or existing templates.
---
Original Press Release:

Printed Signs and Banners Now Available from Visual Workplace



New Custom Sign Shop offers high quality, affordable printed signs and banners
in a variety of material options to suit specific application needs

BYRON CENTER, MI - Visual Workplace, Inc. introduces the Custom Sign Shop. Custom signs from Visual Workplace are ideal for those in need of high quality, large format signs and banners where "do it yourself" may not be realistic. Color signs up to 48 inches x 96 inches and banners up to 6 feet wide by any length can be produced from the customer's ready-to-print artwork, or can be designed in collaboration with Visual Workplace's design team.

Custom signs are available in Banner, PVC, acrylic, polycarb, magnet, magnetic sheeting and ready-to-apply vinyl. They are ideal for the manufacturing environment-safety signs, magnetic labels, banners, directory signs, facility signs, key performance boards, visual management boards and more.

For do-it-yourself customers, Visual Workplace also offers the Mobile In-House Sign Shop (MIHSS). The MIHSS gives users the ability to quickly and easily create their own signs, banners and other visuals either from scratch or existing templates, at a fraction of the cost of purchasing them from an outside vendor, and without the wait. It is an extremely cost effective solution for companies active in or getting started with 5S, Lean implementation and continuous improvement throughout the workplace.

"Visual Workplace offers the best of both worlds by providing customers with the tools to make their own vinyl cut signs using the Mobile In-House Sign Shop, or we can print them in our new custom sign shop. Either way, customers get professional, high quality, cost-effective signage for their facility," says Rhonda Kovera, CEO, Visual Workplace Inc.

ABOUT VISUAL WORKPLACE, INC.

Visual Workplace is a global provider of 5S and Lean products that help users effectively implement and sustain an organized workplace that speaks for itself, that is self-ordering, self-explaining, self-regulating and self-improving. Visual Workplace solutions are used in a wide range of industries such as automotive, consumer products, food and beverage, aerospace, retail, telecommunications, government/defense, pharmaceutical, healthcare and education, among others.

The heart of Visual Workplace's product line is the new Mobile In-House Sign Shop®, which enables users to make professional, custom signs quickly and easily at a fraction of the cost to buy signs from a third party. Visual controls are made at the point of use, exactly when they are needed, so the momentum and progress of 5S and Lean programs is uninterrupted. The Mobile In-House Sign Shop makes it easier to kick off and sustain 5S and Lean programs. Request a live demonstration of the Mobile In-House Sign Shop today.

For more information, or to request a live online and no-obligation demonstration, visit www.visualworkplaceinc.com, email info@visualworkplaceinc.com, or call 1-616-583-9400.

More from Machinery & Machining Tools