Vision and Imaging Sensors / Detectors
Color Sensor lets machines see color intensity.
Press Release Summary: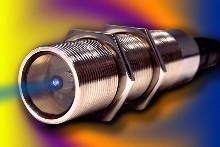 Housed in M30 threaded enclosure, ColorMax-10 features detection range of 30-100 mm and 5 kHz sample speed. High-intensity white LED projects modulated light on target, and sensor analyzes reflected light for constituent RGB values and intensities. Unit has 15 hexadecimal color channels that are stored in non-volatile memory and compared against reading of target color. Operators and PLCs can analyze RGB data to spot trends and diagnose causes of color variation.
---
Original Press Release:

EMX Announces First Sensor That Lets Machines See Color Intensity


New Sensor Offers Technology "Firsts" Including Fastest Speed, Highest Resolution, Most Colors Sensed, and M30 Enclosure

Marketing/Technical Contact:
Joe Rozgonyi, President
EMX Inc.
216-518-9888
jr@emxinc.com

Cleveland, June 8, 2005 - EMX Industries Inc., a manufacturer of sensors for automation, today introduced the ColorMax-1000, the first color sensor that outputs color intensity. Now machine operators and PLCs can know not just which color, but how much color - enabling automation processes to be finely tuned and to tighten control over color in manufactured goods.

In addition, patented technology and an innovative design qualify the ColorMax-1000 for several industry firsts: sample speed that is two to five times faster than competing sensors, an M30 threaded enclosure that simplifies adjustment and installation, and the industry's highest resolution and repeatability specifications. What's more, and it stores 15 colors in memory for matching - nearly twice as many colors as any competing sensor.

The ColorMax-1000 color sensor has a high-intensity white LED that projects modulated light on a target. The sensor analyzes the reflected light for its constituent RGB values and intensities. High accuracy, stability, and sophisticated software algorithms enable the ColorMax-1000 to meet the resolution and speed requirements of advanced manufacturing processes.

Color sensors are used on assembly lines to detect components, verify steps in the manufacturing process, and match different components by color. For example, in automotive assembly, color sensors are used to match bumpers and mirrors to the body paint color, and to match carpet colors with plastic and textile trims. Other application examples include detecting color marks on parts and product packaging, monitoring the color of adhesive tape as it is manufactured, and confirming that the correct color rubber seals are applied.

Unique Intensity Output
With this introduction, EMX has removed a longstanding limitation of color sensors. Traditional color sensors output only a "match/no match" condition to the machine controller. In contrast, the ColorMax-1000 sensor also outputs the analog values for each RGB reading. Now the PLC or operator can see how much color, not just which color. Operators can analyze the RBG data to spot trends and diagnose the causes of color variation. In addition, instead of the sensor making the match decision, now the match decision can be made in a PLC or other controller. For the first time, users have the option of developing their own algorithms for color control.

Most Colors Sensed
Unlike other color sensors that can be programmed to match only one to eight colors, the ColorMax-1000 has 15 hexadecimal unique color channels that are stored in non-volatile memory and compared against the reading of the target color. This reduces the number of sensors required for some applications, because now one sensor can be used where several were needed before. In addition, it gives users more flexibility in changing manufacturing setups without the need to reprogram the sensor. This is increasingly important as North American factories move to high-mix low-volume manufacturing which often requires frequent color changes.

Although the ColorMax-1000 can match for 15 user-programmed colors - more than any other sensor - there may be applications where a greater number of colors are desired. Using the color intensity data, a PLC can store and make matching decisions on a virtually unlimited number of colors.

M30 Enclosure Simplifies Installation and Adjustment
The ColorMax-1000 is the only color sensor available in an M30 threaded enclosure, familiar to any engineer who has worked with proximity sensors. Normally, color sensors are square shaped to accommodate a beam-splitting mirror or light source and receiver combination. To achieve a cylindrical design, EMX engineers had to develop an innovative optics arrangement and a special lens.

The 110mm-long sensor fits a standard 30mm diameter hole. Installation is fast and easy: the technician screws in the sensor and tightens the jamb nuts. The distance can be adjusted up to three inches simply by turning the sensor. In contrast, all other color sensors require users to install a special mounting bracket. Should the operating distance of other sensors need adjustment, the bracket has to be moved and new holes may need to be drilled.

The detection range for the ColorMax-1000 sensor is 30mm to 100mm. At recommended operating distance (50mm) the beam diameter is a tiny 4 or 8mm spot - enabling engineers to pinpoint readings and minimize background color interference.

Industry's Highest Resolution and Repeatability
Electrical noise affects sensing resolution and sensitivity. If a color variation is smaller than the noise, the sensor will not be able to detect the variation, meaning that a subtle difference in color will go undetected. Likewise, when presented with the same color twice, a sensor with electrical noise may report a color variation erroneously.

By employing low-noise technology in the ColorMax-1000 sensor, EMX reduced color variation to 0.5% - the best specification in the industry. High resolution is especially important for detecting color variations at high speeds.

Fastest Sampling Speed
In applications where the target is in front of the sensor for a very short period of time, a sensor with a slow sampling speed can limit the speed of manufacturing. The 5 kHz sample speed of ColorMax-1000 is two to five times faster than the speed of other color sensors - fast enough to keep up with demanding high-speed manufacturing processes.

Ability to Ignore Luster
Because color sensing is based on a measurement of reflected light, color sensors can be 'fooled' by the luster of shiny surfaces. This is particularly true of metallic paint used in automobile parts. EMX's new color sensor overcomes this challenge by using sophisticated software algorithms that ignore luster. Few color sensors offer this capability.

Fast and Convenient Integration
The ColorMax-1000 is the only color sensor that can be programmed via a PC, simplifying sensor installation. If additional sensors are added or if a sensor is replaced, the technician can copy and paste the color profiles stored in the PC software. Color profiles will not be lost if a sensor stops working.

In addition, EMX's new sensor is the only color sensor that automatically detects the PLC connection for PNP or NPN configuration during setup. This feature simplifies ordering and reduces stocking requirements by 75%, because users and distributors no longer need to stock different versions of the sensor.

Unlike some competing sensors, the ColorMax-1000 includes both auto-teach and manual calibration. This makes the sensor easy for low-skill operators to calibrate, yet it provides the ability to be finely tuned.

LED indicators for power, programming, and detection functions aid in setup and troubleshooting. The ColorMax-1000 sensor features an IP67-rated nickel-plated brass housing suitable for a wide range of manufacturing environments, plus short-circuit, over-current, and reverse polarity protection. Connections are made via a circular 12-pin connector.

Secure Operation
For operational security, a supervisor may lock the unit's settings, either remotely or directly on the unit. This feature prevents operators from changing the sensor settings in order to avoid reporting manufacturing quality issues. Most color sensors do not offer this level of assurance.

Price and Availability
The ColorMax-1000 color sensor from EMX is available three weeks ARO starting June 1, 2005. List price for one sensor is $595, with discounts available for quantity orders.

To request a datasheet on the ColorMax-1000, or to talk to an applications engineer about how color sensors can reduce manufacturing costs and improve processes, call EMX at 800-426-9912, send email to salessupport@emxinc.com, or visit the EMX web site at www.emxinc.com.

Related