Color Printer is based on solid ink platform.
Press Release Summary: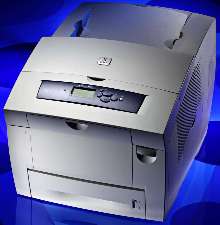 Phaser® 8400 uses 2400 FinePoint(TM) technology, which consists of image rendering software that produces image quality equivalent to 2,400 dpi. Able to deliver 24 color and black-and-white pages/min, printer comes with Adobe PostScript 3, prints on various media, and handles page sizes from 3.5 x 5 in. to 8.5 x 14 in. It comes with up to 512 MB memory, networking architecture, and 500 MHz processor that enables the first-page-out time of 6 sec.
---
Original Press Release:

Xerox Delivers Unmatched Value with New Color Printer Priced at $999


Phaser® 8400 Based on New Solid Ink Platform; Sets New Quality Standard

NEW YORK, Jan. 29, 2004 - Xerox Corporation (NYSE: XRX) today announced the Phaser 8400, a color printer that delivers unmatched value, performance and quality for a low starting price of $999. Based on a new solid ink technology platform, the Phaser 8400 delivers 24 color and black-and-white pages per minute and high-value features that set an industry standard for performance and functionality in the sub-$1,000 color printer category.

According to data from IDC, a global IT research and consulting firm in Framingham, Mass., the sub-$1,000 color printer market is primed for steady growth. Recent data shows that U.S. color page printer shipments in this category have more than tripled from Q3 2002 to Q3 2003, growing from 14.0K to 43.7K units per quarter respectively.

"Small businesses understand the value and economics of color, and are actively seeking the best technology at the right price," said Emerson Fullwood, president, Xerox Channels Group. "This new solid ink platform delivers it all-performance, quality and ease of use in one low-priced package. No one else offers this set of features at this price."

The Phaser 8400 uses 2400 FinePoint(TM) technology -- proprietary Xerox image rendering software that produces image quality equivalent to 2400 dpi. This feature can be used when the highest image quality is necessary for items such as proposals, presentations and photos.

The Phaser 8400 comes with genuine Adobe PostScript 3 and prints on a variety of media, including cardstock, envelopes and transparencies. In addition, it handles custom page sizes from 3.5" x 5" to 8.5" x 14" paper providing the flexibility that today's small businesses need.

The Phaser 8400 features a smaller footprint and weighs 25 percent less than earlier solid ink models without sacrificing quality. Its sturdy design stands up to heavy activity making it an ideal everyday printer for multiple users. Customers can choose from four configurations, selecting the model that best meets their requirements and then upgrading to more advanced capabilities as printing needs grow. The Phaser 8400 has up to 512 MB of memory, automatic two-sided printing on two of the four available configurations and includes a 500 MHz processor that enables the fastest first-page-out time in the industry at six seconds. Its advanced networking architecture supports multiple users, and allows connections via USB 2.0, parallel and Ethernet.

A unique, Xerox-exclusive Configuration Card enables a fast and easy upgrade, and can help shorten service calls. Encrypted for security, this postage stamp-sized card is conveniently located on the side of the printer for quick access and captures the printers "personality," including its feature set and network settings.

As with all Xerox network printers, the Phaser 8400 is easy to install and has advanced Web-based printer management tools including CentreWare® Web 3.0, PhaserSMART(TM) and an enhanced version of PrintingScout, which alerts users to potential printer issues and gives instructions on how to correct them. The printer also features Intelligent Ready, a software program that minimizes printer warm-up time by responding to recent usage patterns.

The Phaser 8400 solid ink printer comes with the Xerox Total Satisfaction Guarantee and a one-year depot warranty. Xerox also offers toll-free telephone support and online customer support. The Phaser 8400 is immediately available worldwide through Xerox direct sales, resellers and dealers at an estimated retail price of $999.

Customer Contact:
For more details on Xerox printers, call 877-362-6567 or visit http://www.xerox.com/office.

XEROX®, The Document Company®, CentreWare®, FinePoint(TM), Phaser®, PhaserSMART(TM) and the digital X® are trademarks of XEROX CORPORATION.