Color LCD Monitors suit professional CCTV installations,.
Press Release Summary: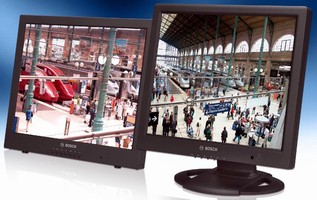 Available with various mounting options, flat-panel monitors offer picture-in picture and split-screen viewing. Models UML-172-90 (17 in.) and UML-192-90 (19 in.) include color TFT active matrix LCD panel for imaging 500 TVL to 1,600 x 1,200 or 1,280 x 1,024 pixels. Model UML-150-90 (15 in.) automatically adapts to input resolution of video signals from 400 TVL to 1,280 x 1,024 pixels, and 42RTC (42 in.) WXGA color monitor suits DVR and PC applications.
---
Original Press Release:

Bosch Adds Color Liquid Crystal Display Monitors to Its Professional CCTV Solutions



High image quality plus picture-in picture and split-screen viewing

o New range of general-purpose and high-performance color LCD panel monitors with sizes from 15-inch up to 42-inch
o Picture-in picture and split-screen viewing
o Easy adjustment with user friendly on-screen menus and front panel controls

Bosch Security Systems is adding a range of high-performance and general-purpose color liquid crystal display (LCD) flat-panel monitors to its extensive portfolio of security components and solutions. Designed for professional CCTV installations, Bosch's new high-resolution VGA and UXGA monitors offer very high image quality. Other innovative surveillance features include picture-in-picture, split screen viewing and digital HDMI input. In addition, the monitors automatically accept PAL and NTSC signal formats as well as AC power supply voltages from 90 to 256 V. The new monitors range in sizes from 15-inch to 42-inch with wall, rack and pole mounting options available.

The new UML-172-90 17-inch and UML-192-90 19-inch high-performance monitors include a color thin film transistor (TFT) active matrix LCD panel for high resolution imaging from 500 TVL to 1600 x 1200 or 1280 x 1024 pixels. They feature two looping composite video inputs, two looping audio inputs and one looping Y/C input.

The picture-in-picture or split screen capability allows simultaneous viewing of multiple locations. Display adjustments are easily made with on-screen menus available in several languages and with front panel controls. Moreover, their wide viewing angle allows users to easily view the screens whether the monitors are positioned on a desktop, mounted to a VESA standard wall mount or rack mounted in a standard EIA rack.

The monitors also include long-life fluorescent backlighting to maintain the screen's brightness level over life in constant use.

The UML-150-90 15-inch and UML-192-90 19-inch general-purpose monitors provide crisp image quality and automatically adapt to the input resolution of the incoming video signal, from 400 TVL up to 1280 x 1024 pixels (1.3 megapixels). The monitors refresh every five milliseconds, with minimal smearing and ghosting in fast motion video. In addition, the monitors are characterized by low power consumption, adapt automatically to fluctuating electricity loads while protecting circuitry, and feature standard 100 mm mounting holes for a range of wall mounts. Moreover, user-friendly, on-screen menus and front panel controls allow users to easily adjust the monitor display to their preferences.

Largest in the new range is the 42RTC, a 42-inch, high-resolution WXGA color monitor suitable for use with both digital video recorders (DVR) and PC applications. The monitor provides comfortable, clear viewing whether on a desktop or mounted to a wall. The new monitors comply with FCC and CE regulations for electromagnetic compatibility and with UL, EN and IEC standards for product safety.

The Bosch Group is a leading global supplier of technology and services. In the areas of automotive and industrial technology, consumer goods, and building technology, some 271,000 associates generated sales of 46.3 billion euros in fiscal 2007. The Bosch Group comprises Robert Bosch GmbH and its more than 300 subsidiaries and regional companies in roughly 50 countries. This worldwide development, manufacturing, and sales network is the foundation for further growth. Each year, Bosch spends more than 3 billion euros for research and development, and applies for over 3,000 patents worldwide. The company was set up in Stuttgart in 1886 by Robert Bosch (1861-1942) as "Workshop for Precision Mechanics and Electrical Engineering."

The special ownership structure of Robert Bosch GmbH guarantees the entrepreneurial freedom of the Bosch Group, making it possible for the company to plan over the long term and to undertake significant up-front investments in the safeguarding of its future. Ninety-two percent of the share capital of Robert Bosch GmbH is held by Robert Bosch Stiftung GmbH, a charitable foundation. The majority of voting rights are held by Robert Bosch Industrietreuhand KG, an industrial trust. The entrepreneurial ownership functions are carried out by the trust. The remaining shares are held by the Bosch family and by Robert Bosch GmbH.

Additional information can be accessed at www.bosch.com.

More from Agricultural & Farming Products