Color Density Meter suits pressroom QC applications.
Press Release Summary: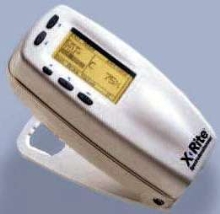 Designed for monitoring quality in print jobs, X-Rite 508 Spectrodensitometer (M003-021) measures GATF proofing bars, QuarkXPress® color bars, and Ugra/Fogra color control elements. It also includes 4-color newsprint functions and lets user select measurement aperture of microspot 1.6 x 3.2 mm, small 2.0 mm, medium 3.4 mm, or large 6.0 mm. Operated via interactive menu and key system, product features RS-232 serial interface and measurement time of 0.9-1.4 sec.
---
Original Press Release:

508 Spectrodensitometer


The X-Rite 508 Spectrodensitometer brings the newest color control technology to a device designed specifically for basic 4-color reproduction. Spectral technology gives the 508 unmatched performance in monitoring basic quality control for process color print jobs. The unit goes anywhere to quickly measure common density and dot functions. The 508 is ideal for basic commercial, publication packaging, and newspaper printing operations.

The 508 Is Ideal For Basic Prepress Applications

It measures GATF proofing bars, QuarkXPress® color bars, Ugra/Fogra color control elements and other quality control targets used during the prepress process.

The 508 Is Ideal For Newspapers

X-Rite includes specialized 4-color newsprint functions within the 508 to ensure color accuracy and consistency across press runs and over time. These include newsprint-specific density functions and gray balance. The 508 achieves precise color quality control with newsprint and inserts by simultaneously measuring the densities of cyan, magenta, and yellow in a special News mode. Simply measure a three-color gray bar, masthead, banner, weather map, or another color element. The 508 instantly informs you whether any of the colors need adjusting.

Our basic 508 densitometer is great for prepress and the press room - it accurately measures density, dot area and dot gain in a single instrument.

o Keep proofing and press runs consistent by impartially evaluating print quality

o Critical density and dot area evaluation of ink levels and ink-water balance on press

o Document density data to quantify press approvals and ensure multi-part jobs or customer reprints are up to color

o Set references for dot gain and density to ensure customer and internal color requirements are met

o Only X-Rite lets you select a measurement aperture - microspot 1.6 x 3.2 mm, small 2.0 mm, medium 3.4 mm or large 6.0 mm

INSTRUMENT ATTRIBUTES

Aperture Size: Standard (3.4 mm)
Primary Market: Printing - News
Primary Application: Pressroom QC
Filter Options: T, G, E, I, A, Hi-Fi
AC Adaptor: 120V AC to 12V DC

SPECIFICATIONS:

Measurement Geometry
45°/0° per ANSI, DIN & ISO Standards

Spot Size at Sample
3.4 mm (0.13 in) standard
2 mm (0.078 in)
6 mm (0.236 in) optional
1.6 mmH (0.051 in) x 3.2 mmW Micro-Spot (0.102 in)

Light Source
Gas Pressure @ 2856°

Response Types
T, E, I, A, G,Tx, Ax, Ex, Hi-Fi

Measurement Range
0.00D to 2.5D; 0 to 160%R

Measurement Time
Approx. 1.4 seconds, approx. 0.9 seconds for consecutive measurements in Speed Read mode

Warm Up Time
None

Repeatability
+/- 0.005D 0 to 2.0D*
+/- 0.010D 2.0 to 2.5D*
*Polarized Yellow +/- 0.010D 0 to 1.8D
Micro-Spot +/- 0.010D 0.0 to 1.8D

Inter-Instrument Agreement
0.01D or 1% for typical printing processes

Data Interface
RS-232 serial interface with baud rates from 1200 to 57.6K communication

Power Source
Ni-MH battery pack, 4.8v rated @ 1650mAH

Charge Time
Approximately 3 hours

Environmental
+10° to 35°C operating,
30% to 85%RH non condensing

Physical Dimensions
Height: 81 mm (3.2 in)
Width: 76 mm (3.0 in)
Length: 197 mm (7.8 in)

Weight
1050 grams (2.3 lbs)

User Interface
o Sharp/reversible display
o Left- or right-hand operation
o Interactive menu and key system
o Clear recognition of function when measuring
o Auto color select
o High resolution LCD display
o Multiple language support
o Calibration Alert feature Security
o Lock out of specified functions
o Lock out of configuration menu
o Security cable (optional)

Density Features
o Density (absolute or minus paper)
o Density Difference (16 reference values)
o Dot Area (Tone Value)
o Dot Gain w/triple reference
o News mode
o Selectable User Configuration (US, Euro, NewsBalance, News3-Color)
o Selectable Status Response (T, E, I,A, G,Tx, Ax, Ex, & Hi-Fi)

Accessories Provided
o Calibration Reference
o Getting Started Guide
o CD Operator's Manual with Training Video
o AC Adapter
o Carrying Case
o 3 year warranty

Note: X-Rite calibration references are traceable to the U.S. National Institute of Standards and Technology through Munsell Color Science Laboratory RIT.

Part Number M003-021
DENSI:508 SPECTRODENSI
$2,490.00 EACH