Color Consistency for Injection Molded Parts Poses a Challenge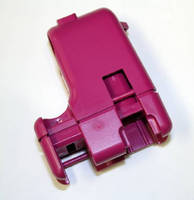 This becomes apparent when it comes to mating parts in any assembly where colors need to match 100 percent. 



Pre-colored plastic is used in the injection molding process so the molded part emerges in the specified color and finish.  There is no need for painting, plating or other finishing steps. The color becomes an integral part of the component, and the color is not just on the surface. The advantages to this approach include:

• High quality, long lasting – no paint scratch, peeling issues

• Coloring withstands harsh environments

• Eliminates secondary operations for lower costs

• Environmentally friendly process eliminates or reduces environmental impact

• FDA compliant molded-in coloring available

• Flame-retardant grades available



Achieving Custom Colors

• Choose a predefined color - usually Pantone

• Assure raw material availability - as not all Pantone colors have material available  



If the right material can be ordered for your desired Pantone, a fairly consistent color matching per batch can be achieved. There might be slight color alterations between production batches, however, they are insignificant.



1) Purchase Custom Compounded Plastic – custom colored plastic pellets can be purchased from a supplier.  The material is then injected into the mold.  A minimum of at least a ton of plastic pellets needs to be purchased on the open market, which means this process is economically less suitable for low-volume production.  Usually color consistency is good - but there are slight variations from batch to batch.



2) Mixing Colorant with Natural Material –  custom colors can be mixed on the injection molding machine. The colorant pellets and natural pellets are simultaneously fed into the machine.  The mix ultimately creates the final color.



To accomplish perfect coloration for injection molded parts - choose partners that are experts at this process.   An employee-owned company, Crescent Industries has been delivering the highest standards available for injection molding processes for decades.  Learn more about Crescent Industries injection molding capabilities on our website www.crescentind.com.





More from Chemicals & Gases