Color Change Solution ensures document security.
Press Release Summary: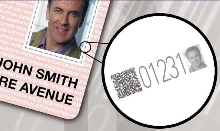 DigiVU(TM) MICROREAD uses chemistry; variable, tunable laser source; and individual control system to form series of unique overt/semi-covert/covert features within document. Images, reproduced in microscopic scale, can be verified with machine by decoding encrypted data or magnifying and making visual comparison to reference. By embedding active chemistry within laminate, covert, unactivated patch can undergo subsequent marking to provide forensic verification.
---
Original Press Release:

Sherwood Technology Launches DigiVU(TM), A Colour Change Solution For Document, Brand And Product Security


(WIDNES, CHESHIRE - MARCH 2005) - Sherwood Technology Ltd announces the launch of DigiVU(TM), its newest colour change solution to provide sophisticated, high level features for the protection of documents, products, and brands. A phased introduction will see the roll out of individual security devices, each targeted at a particular sector, but with undoubted 'crossover' application in other areas. The first such launch is DigiVU(TM) MICROREAD which is poised to make a significant impact in the field of Document Security, including ID cards, drivers' licences, credit and debit cards, passports, visas, and other documents.

DigiVU(TM) MICROREAD uses a combination of proprietary chemistry, a variable, tunable laser source, and individual control system to form a series of unique overt, semi-covert, and covert features within a document. Ultra high resolution images are reproduced by a variable digital imaging process in microscopic scale, which are only achievable using the unique proprietary DigiVU(TM) chemistry and virtually impossible to decipher with the human eye. However, once machine verified by decoding encrypted data, or magnified and visually compared to a reference, the DigiVU(TM) MICROREAD images become a highly effective authentication tool. Furthermore, by embedding the active chemistry within a laminate, a covert, unactivated patch can undergo subsequent marking by the original laser source to provide a high level of forensic verification. DigiVU(TM) MICROREAD thus provides the essential 'three levels' of protection ; a covert 'recognisable' image (such as a microphoto of the bearer) which can be magnified, and visually compared; encrypted data (e.g. a fingerprint represented in 2D code) which can be scanned and machine verified; and a covert, hidden area where the DigiVU(TM) chemistry can be 'forensically' analysed and laser marked.

"The importance of the fight against fraudulent identity has been elevated in recent times from the stemming of financial losses, to the international fight against terrorism", comments Andrew Jackson, Applications Marketing Manager of Sherwood. "We are confident that DigiVU(TM) MICROREAD will play a part in helping to protect against this threat to both individuals and nations."

"Currently, Sherwood is in a field of its own," says Jeremy Plimmer, Secretary General of the Product and Image Security Foundation. "In the world of product and image security, DigiVU(TM) colour change technology offers some indisputable advantages."

More information about DigiVU(TM) is available at www.sherwoodtech.com or by e-mail info@sherwoodtech.com

More from Chemicals & Gases