Color 3D Laser Scanning Microscope has 0.001 µm precision.
Press Release Summary: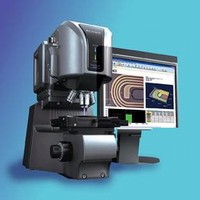 Combining capabilities of SEMs and non-contact profilometry with functionality of conventional microscope, VK-9700 features 18,000x magnification and can perform surface profile, roughness, 3D, and comparative measurements. Its 3D display works with virtual trackball method and use of computer mouse to control viewing angle, lighting angle, zoom level, and Z-axis height. Images can be illuminated with pseudo-light when displayed on screen to shade irregularities on surface.
---
Original Press Release:

Color 3D Laser Scanning Microscope



The new KEYENCE VK-9700 Color 3D Laser Scanning Confocal Microscope combines the capabilities of SEMs and non-contact profilometry with the simplicity of a conventional microscope. Major features include a 18,000x magnification and 0.001 µm precision, 3D imaging and superior color performance with operational simplicity. The VK-9700 performs a variety of non-contact 3D measurements that include surface profile, roughness, 3D and comparative measurements.

The VK-9700 offers advanced 3D imaging features. The 3D display works with the virtual trackball method and the use of a computer mouse to control the viewing angle, lighting angle, zoom level and Z-axis height. 3D images can be illuminated with pseudo-light when displayed on the screen. Adjusting the angle of the light in accordance with an object shades microscopic irregularities on the surface of an object. Lighting display makes the examination easy and enables the examination of a surface in the specified direction. The measurement area of an object displayed on the screen using the 3D measurement method can be adjusted or set for both 2D and 3D images.

Three software programs are available for use with the VK-9700: VK-Viewer, VK-Analyzer and VK-Assembler. The examination and measurement software, VK-Viewer, simplifies complex operations of conventional laser microscopes into just three steps: examination positioning, adjustment of peak and pressing the measurement button. The next-generation analysis software, VK-Analyzer, improves work efficiency with an easy-to-use document interface (multiple analysis results in a single window) and WYSIWYG (What You See Is What You Get) capability. The image assembly software, VK-Assembler, makes wide range 3D measurement possible, joining together image areas that extend beyond the microscope's field of view.

Enhanced optional items can increase the versatility of the VK-9700 laser scanning microscope. An adjustable stand will allow the measurement of tall objects up to 3.94" (100 mm) and a wide selection of lenses can be used based on the type of object. Also available are larger stages for wafers up to 11.81" (300 mm) long, electric stages for automatic image assembly, and a separate measuring head that makes possible the non-destructive examination of large-sized targets.

For VK-9700 Laser Confocal Microscope details, specs VIDEOS and applications: http://www.digitalmicroscope.com/prd

For further information, contact Phil Melore, Engineering Manager, Keyence Corporation of America, 50 Tice Boulevard, Woodcliff Lake, NJ 07677. Tel: 888-539-3623 ext 70703,
Fax: 201-930-1883 Email: KeyencePR@keyence.com

More from Cleaning Products & Equipment