Rotary Positioning Stages / Tables
Collet Indexers come in 1- or 2-axis configurations.
Press Release Summary: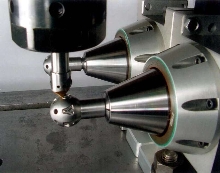 With 36:1 gear ratio, 3C collet indexer features ½ in. collet capacity and tapered spindle nose, while 5C collet indexer features 60:1 gear ratio, 1/16 in. collet capacity, and 2 3/16 in. -10 threaded spindle nose. Featuring A2-5 spindle nose, 16C collet indexer offers 60:1 gear ratio, single- or dual-axis machining of parts up to 1 5/8 in. dia, and internal pneumatic clamping. Indexers all feature pneumatic collet closers, 1-4 spindles, and 0-50 rpm speed range.
---
Original Press Release:

Troyke Collets Provide Accuracy, Rigidity & Flexibility


CINCINNATI, OH - "The advantages collets have over chucks are they're quick, they clamp on a high percentage of the part surface, they don't have pressure points and they run very concentrically," says Ben Froehlich, president, Troyke Manufacturing Company. "They're ideal for batch production of secondary operations using multiple spindles or in shops for prototyping."

The Troyke single- and dual-axis collet indexers offer pneumatic collet closers, single or multiple (1 to 4 spindles for increased production) and a 0-50 RPM speed range. They operate with all standard servomotors and are available with a standalone programmable controller, actuated by "M" functions, or as 4th or 4th and 5th axis of the machine control.

These indexers are compatible with all vertical machining centers and knee mills.

The spindle nose is hardened and ground for accuracy and has a rigid design with large bearing surfaces to support heavy cutting forces. High-precision ball and roller bearings are standard, and spindle positioning is accomplished through a bronze worm wheel and hardened and ground worm shaft.

Typical Features
The 3C collet indexer features a 3C collet with a 36:1 gear ratio, 1/2" collet capacity and a tapered spindle nose. The tapered nose, Froehlich explains, is very important, especially when working on very small parts. "This allows a small part to be extended well into the cutting area, avoiding the potential for interference with the tooling or spindle nose."

The 5C collet indexer features a 5C collet, a gear ratio of 60:1, 1/16" collet capacity, a 2-3/16" -10 threaded spindle nose for mounting optional workholding components, including 5" and 6"chucks, 1" to 6" x 1/2" or 1-1/4"deep step chuck closers, 1/8" to 4" expanding mandrels and face plates.

The 16C collet indexer is the most versatile single- or dual-axis rotary product available, features a 16C collet, with a 60:1 gear ratio, single- or dual-axis machining of parts up to 1-5/8"diameter, internal pneumatic clamping and an A2-5 spindle nose for mounting workholding components, including 6", 8" and 10" chucks, 2" to 6" step chuck closers, 1/4" to 4" expanding mandrels and face plates.

The tilt axis range for the dual-axis indexers is -5° to +115° and provides two-axis linear, arc and contour machining and precise two-axis part positioning. The tilt axis brake is pneumatic precise, predictable braking.

Troyke design
Froehlich notes that there are a number of aspects that make Troyke collet indexers stand apart. One, they're very compact, which is important when you consider the tight confines of the work envelope of a machining center or mill. Second, they offer a heavier duty bearing design than most others do. Last, Troyke features an extremely high collet drawbar pull back.

"A lot of other collet fixture designs employ a simple piston to draw back the collet," says Froehlich. "In our design we have a mechanical cam and finger arrangement that gives us a pullback force of six times the square inches of the piston times the air pressure.

"We get an extremely high pull back with these fingers on the draw tube, and the draw tube is threaded onto the collet and pulls the collet back into the spindle taper," Froehlich says. "The collet stays clamped when pressure is removed, due to the locking feature of the cam".

Since the spindle is mounted in high precision spindle bearings, the axial force of a tailstock adds no torque load to the table

Troyke Manufacturing has been an industry leader in rotary tables and positioning systems, single- and dual-axis collet indexers and other workholding accessories since 1939. Through continuous improvement and innovation, Troyke has gained a reputation for the most rigid, versatile, cost effective and highest quality products in the industry.

For more information, contact Troyke Manufacturing Co., 11294 Orchard Street, Cincinnati, OH. 513/769-4242 (v); 513/769-6362 (f); tryoke.com

More from Machinery & Machining Tools