Collapsible Robotic Welding Cell aids student and workforce training.
Press Release Summary: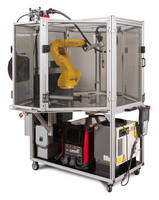 Robotic Welding Education Cell 2.0, featuring collapsible 2,000 in.² max work surface area, has shielding gas bottle rack/storage, fume extraction system mounting, and welding robot. Mounted on wheels, lightweight unit fits through standard doorway and also has AutoDrive® 4R100 wire feeder, Magnum® PRO robotic welding torch and consumables, and SuperArc® L-56® GMAW welding wire. Unit includes production monitoring software and is designed to be training tool in classrooms and welding labs.
---
Original Press Release:

New Training System Equips Workforce with Advanced Manufacturing Robotic Skills



Lincoln Electric Offers Enhanced Robotic Welding Education Cell 2.0



Cleveland – Lincoln Electric introduces an enhanced Robotic Welding Education Cell 2.0 for use in schools, colleges and private manufacturing training centers. The compact new robotic cell is intended to help the manufacturing industry respond to a critical shortage of skilled labor. Training available workers on advanced automated welding delivers the productivity and quality the U.S. manufacturing industry must have to remain successfully competitive.



For instructors and students, the new cell provides access to robotic technology and advanced training, allowing students to develop skills that meet the needs of the industry's developing manufacturing environment.  The mobile nature of the Education Cell, including a collapsible work space, allows it to be used as a training tool in multiple classrooms and welding labs. It also can be easily transported to recruiting events to attract students.



"The future of manufacturing lies in motivating students to consider science, technology, engineering and math careers," said Deanna Postlethwaite, marketing manager, Lincoln Electric Automation Solutions. "The enhanced Robotic Welding Education Cell is a key to addressing these educational targets and building a workforce with the right skills for manufacturing.  The robotic system design caters to industrial, welding education and robotic training needs."



The Robotic Education Cell Program gives students a foundation in robotic welding basics, as well as more sophisticated technologies, preparing them to succeed in industries ranging from building and fabrication to automotive, transportation, and structural steel.  The welding cell supplements coursework in any math or science-based curriculum, including CAD, electronics, machining, and computer science and information technology.



The Robotic Education Cell offers the following benefits:

• Collapsible work surface area (2000 sq. in. maximum work surface area)

• Lightweight, mounted on wheels and fits through a standard doorway, allowing it to be moved easily from classroom to classroom and positioned for optimal demonstration purposes

• Ready to go out of the box. The packages include integrated shielding gas bottle rack/storage, fume extraction system mounting and integrated safety devices.

• Equipped with a "production ready" welding robot packaged with numerous software options from FANUC® Robotics

• A single power drop for the complete cell - simplifying connection of the FANUC® ARC Mate® 50iC/5L robotic arm and Power Wave® R350 welding power source



The Robotic Welding Education Cell features:

• Lincoln Electric Power Wave® R350 welding power source

• Lincoln Electric Power Wave® and Production  Monitoring™ Software Capability

o CheckPoint™ cloud-based production monitoring software

o Production Monitoring™ 2.2 server-based software

• Lincoln Electric AutoDrive® 4R100 wire feeder

• Lincoln Electric Magnum® PRO robotic welding torch and consumables

• Lincoln Electric SuperArc® L-56® GMAW welding wire

• FANUC® ARC Mate® 50iC/5L

• FANUC® R-30iA Mate Controller

• FANUC®  LR ArcTool® Software



To learn more about the Robotic Welding Education Cell 2.0, request brochure E10.122 by calling Lincoln Electric Automation Solutions at (888) 935-3878 or visiting www.lincolnelectric.com . For more information and resources on Lincoln Electric robotic solutions go to www.lincolnelectric.com/automated-solutions or send questions and inquiries to automation@lincolnelectric.com.



The Lincoln Electric Company, headquartered in Cleveland, Ohio, is the world leader in the design, development and manufacture of arc welding products, robotic arc welding systems, fume control systems, plasma and oxyfuel cutting equipment and has a leading global position in the brazing and soldering alloys market.



FANUC® Robotics, located in Rochester Hills, Michigan, designs, engineers and manufactures industrial robots and robotic systems for a wide range of applications including arc and spot welding, material handling, material removal, assembly, paint finishing and dispensing. The company also provides application-specific software, controls, vision products and complete support services.



Attn:  Magazine Staff – Please send prospect lead inquiries only to Lincoln Electric c/o Ultimate Lead Systems, Inc., P.O. Box 739, Berea, OH  44017.



Pkg. #647



Media Contacts:

Robin Suttell – rsuttell@fallscommunications.com or 216.696.0229

Greg Coleman – greg_coleman@lincolnelectric.com or 216.383.2462



More from Agricultural & Farming Products