Collapsible Gate Valve Cover for handles larger than 12 inches.
Press Release Summary: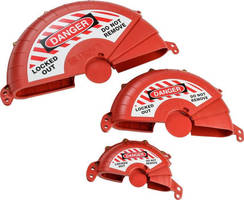 Available in three sizes to effectively secure valves with 3- to 18-inch diameter handles, Brady's Collapsible Gate Valve Lockout Devices provide secure lockout for a wide range of valves, utilizing fewer devices. Housed in rugged injection-molded styrene construction, device includes knock-out centers to accommodate outside screw and yoke (OS&Y) valves. Enabling easy storage in maintenance carts, covers can be folded into convenient sizes.
---
Original Press Release:
Brady Debuts Collapsible Gate Valve Lockout Devices
Brady(NYSE:BRC), a global leader in industrial and safety printing systems and solutions, today announced its Collapsible Gate Valve Lockouts. These durable and versatile lockout covering devices are available in three sizes to effectively secure valves with 3- to 18-inch diameter handles.

"This new collapsible gate valve design provides secure lockout for a wider range of valves, with the use of fewer devices," says Tom Campbell, global product manager, lockout tagout solutions for Brady. "Until now, there hasn't been a gate valve lockout cover solution for handles larger than 12 inches. These covers easily rotate around valve handles to the fully engaged position, while also folding into smaller sizes for easy storage on maintenance carts and in lockout kits."

Brady's Collapsible Gate Valve Lockouts are available in three sizes, to secure 3"-7", 7"-13" and 13"-18" diameter valve handles. The rugged injection-molded styrene construction withstands harsh outdoor conditions for added durability, while the patent-pending design includes knock-out centers to accommodate outside screw and yoke (OS&Y) valves.

Learn more about the Collapsible Gate Valve Lockouts andorder today.

For More Information

For Brady's complete product offering, visit BradyID.com.

About Brady Corporation:

Brady Corporation is an international manufacturer and marketer of complete solutions that identify and protect people, products and places. Brady's products help customers increase safety, security, productivity and performance and include high-performance labels, signs, safety devices, printing systems and software. Founded in 1914, the Company has a diverse customer base in electronics, telecommunications, manufacturing, electrical, construction, medical, aerospace and a variety of other industries. Brady is headquartered in Milwaukee, Wisconsin and as of July 31, 2016, employed approximately 6,400 people in its worldwide businesses. Brady's fiscal 2016 sales were approximately $1.12 billion. Brady stock trades on the New York Stock Exchange under the symbol BRC. More information is available on the Internet at bradycorp.com.

Brady Corporation,
6555 W. Good Hope Rd.
Address Line 2,
Milwaukee,
53223 Wisconsin,
United States
More from Non-Industrial Products