Collapsible Cleanroom Glovebox Isolator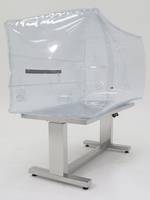 Fullerton, CA – Terra's new collapsible EZ-UP Glovebox™ Isolator is ideal for packaging, field work or handling delicate forensic samples. The softwall, 40 mil vinyl is anti-static, flame-resistant and easy to store when not in use; simply deflate the enclosure and tuck away. To use the glovebox, inflate with inert gas such as nitrogen or argon. Multiple purge/bleed cycles are unnecessary to remove moisture and oxygen, saving time and process-gas expense.
The economical enclosure is also a solution for labs on a budget, or who need dedicated work stations for specific applications such as chemical mixing or quality-control tasks. Once filled with nitrogen, positive pressure is maintained for weeks. Use a flowmeter to keep the enclosure connected to a nitrogen source, insuring constant pressure. Terra's Relief/Bleed (RB) Valve works in tandem to prevent over-pressurization.
Vinyl panels are securely RF-welded together, and openings are made with zippers; equipment and samples can be placed inside using the standard zippered entries or optional collapsible airlocks. Learn about other options used for configuring the glovebox to meet your budget and application.
Terra Universal has 40 years of experience manufacturing oxygen- and moisture-free enclosures used in labs and cleanrooms. Visit Terra Universal's website for more information about their EZ-UP Collapsible Glovebox Isolator.
Contact:
Mike Buckwalter
Terra Universal: Marketing Phone
(714) 578-6000