Cold Spray System supports variety of metal coating materials.
Press Release Summary: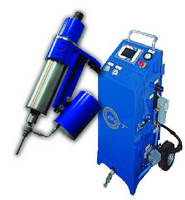 With SST(TM) Series EP Cold Spray System, metal coatings can be applied at operating pressures from 100-500 psi. Material choices include aluminum and aluminum alloys, Inconel, Invar, MCrAIY, nickel and nickel alloys, stainless steel, titanium, and titanium alloys. System comes complete with portable cabinet, HMI controls, pressurized feeder, and robotic style spray gun.
---
Original Press Release:

CenterLine Introduces the SST(TM) Series EP Cold Spray System



Windsor, Canada, - CenterLine is very pleased to announce another expansion of its Supersonic Spray Technologies (SST(TM)) product line with the addition of the SST Series EP Cold Spray system. The Series EP's enhanced features enable users to spray with increased performance and / or productivity using an expanded range of coating materials. This system is ideal for applications requiring higher coating deposition
rates, higher deposition efficiency, and greater bond strengths.

With the SST Series EP Cold Spray system, cold spray metal coatings can be applied at operating pressures between 7 to 35 bars (100-500 psi). Material choices include: Aluminum & Aluminum Alloys (AA7075, AA6061, AA4047, etc.), Inconel, Invar, MCrAIY, Nickel & Nickel Alloys, Stainless Steel (304, 316), and Titanium & Titanium Alloys (Ti6AI4V) to name a few.

The SST Series EP Cold Spray equipment comes complete with portable cabinet, HMI controls, pressurized feeder and robotic style spray gun.

Contact CenterLine today for additional information or visit our SST website at
www.supersonicspray.com to learn about our complete Cold Spray product line and capabilities.

CenterLine's Supersonic Spray Technology Division designs & manufactures a full range of patented coldspray metal coating systems for the aerospace, defense, glass and automotive industries.

Cold spray is a cost effective and practical coating process that is considered part of the Thermal Spray family. The cold spray process enables users to apply robust metal coatings to a wide range of surfaces without ever melting the coating materials or the substrate. Coating characteristics include extremely low oxide entrapment, high densities and high bond / cohesive strengths. They are also extremely machineable
(with conventional tooling), have thin or thick build characteristics and are accepting of dissimilar materials with no galvanic reactions

More from Agricultural & Farming Products