Cold Pack provides instant pain relief.
Press Release Summary: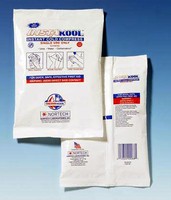 Free of Ammonium Nitrate, InstaKool(TM) Instant Cold Compress features Urea-based formula that promotes relief of pain and swelling caused by sprains, strains, contusions, minor burns, toothaches, and insect bites. HAZ-MAT free cold compress, designed for first aid treatment, is non-toxic and latex-free. Disposable product comes in 3 sizes for different contours and uses.
---
Original Press Release:

Haz-Mat Free Instant Cold Pack Provides Quick Pain Relief



Experience Instant pain relief with InstaKool(TM) the safer, colder better instant cold pack.

Nortech Laboratories is the first USA based company to vertically integrate and deliver this REVOLUTIONARY cold pack. Being the first Ammonium Nitrate FREE; Urea based proprietary formulation to outpace the competitive temperature ranges of previous manufacturers Nortech has established standards and safety features that are leaving current suppliers cold.

SAFER & HAZ-MAT FREE, InstaKool(TM) is the answer for current suppliers and distributors because it eliminates the HAZMAT fee that suppliers are paying. Recent legislature is putting restraints on the storage, facilities and use of ammonium nitrate. Recent headlines have also noted that from the Oklahoma bombing to the train bombings in England, ammonium nitrate (fertilizer) has been key components in the components of explosives used.

Cryo-therapy has been documented over time that instant relief of pain and swelling caused by sprains, strains, contusions, minor burns, toothaches, insect bites and other medical related issues. InstaKool(TM) is designed meet all cryo-therapy and modality needs. It quickly helps reduce swelling, ease pain and promote faster recovery for any conditions requiring cold therapy. InstaKool(TM) is the perfect pack for first aid kits, healthcare, medical, athletic teams, schools, commercial uses, and safety industries.

InstaKool(TM) differs from other similar products in the market and retains its temperature for a longer period of time. InstaKool(TM) Instant Cold Compress is a convenient single use disposable pack available in three applicable sizes and a variety of packaging options. InstaKool(TM) meets and exceeds American National Standard Requirements (ANSI) for Cold Packs 5.2.1.6 and ASTM Method (D882) for Tensile Strength at Break.

o Features;
o Revolutionary innovative formula for safer and effective first aid
o 3 sizes for different needs, contours and uses
o Exceeds ANSI standards for cold duration
o Non Toxic & Latex free
o Instant Activation!
o HAZ-MAT FREE - No O-RMD Label Required


More from Cleaning Products & Equipment