Cold Chain Temperature Monitoring Card traces vaccines over time.
Press Release Summary: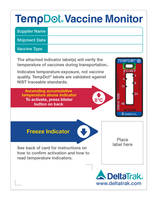 Cold Chain Vaccine Monitoring Card features irreversible chemical TempDot Minus labels that monitor descending temperatures with ThermoTrace Time and Temperature Indicators. Activated by button, single-use labels provide visual indicator when products have been exposed to temperatures below defined threshold. Retrieved using industrial barcode reader or smartphone, information is then collected into cloud-based database for analysis and documentation.
---
Original Press Release:
Deltatrak® Introduces New Cold Chain Temperature Monitoring Card for Vaccines
Vaccine Card Combines DeltaTRAK and Barcode Time and Temperature Indicator Labels to Monitor and Trace Product Temperatures Through the Entire Cold Chain

PLEASANTON, Calif. - DeltaTRAK®, a leading innovator of cold chain, environmental monitoring and food safety management solutions, today announced the introduction of its new Cold Chain Vaccine Monitoring Card. The card features irreversible labels designed to provide monitoring and tracking of temperatures as vaccines travel throughout the cold chain. The card features DeltaTRAK's chemical TempDot Minus labels designed to monitor descending temperatures with the company's ThermoTrace Time and Temperature Indicators (TTI) labels designed to track temperature excursion events.

"Increased temperature visibility of vaccines allows customers to more effectively monitor product efficacy and comply with ePedigree guidelines," said Frederick Wu, president and CEO of DeltaTRAK. "Our labels provide an immediate pass or fail confirmation if a product has been exposed to abusive temperatures and our barcode labels track up to three levels of cumulative temperature abuse. Together they provide a useful tool for assessing if vaccines are received in manufacturer-recommended condition."

TempDot Minus Labels provide an irreversible easy to read indication of exposure to abusive temperatures. Activated by a simple button push, the labels monitor descending temperature breaches. The labels provide a visual indicator when products have been exposed to temperatures below a defined threshold. 

The TTI label is a single-use barcode label that tracks up to three levels of cumulative temperature abuse above its threshold temperature. This process is captured in real time with every scan taken using an industrial barcode reader or consumer based smartphone (iPhone, Android or Windows CE) and this information is collected into a cloud-based database for analysis and documentation.

DeltaTRAK will be showcasing its new temperature monitoring card at the Parenteral Drug Association Pharmaceutical Cold Chain Conference (Booth 4) in Bethesda, Maryland November 15-16th, 2012.

About DeltaTRAK®
DeltaTRAK® is a leading innovator of cold chain management, environmental monitoring and food safety solutions for the food, pharmaceutical, life sciences and chemical industries. The company's cold chain management and food safety solutions include a wide range of temperature, humidity, and pH monitoring and recording devices, such as data loggers, wireless systems, and a variety of professional thermometers. DeltaTRAK also manufactures facility and mobile environment monitoring solutions that provide real-time data access to centralized web/cloud based data. Headquartered in Pleasanton, California, DeltaTRAK has an R&D facility in San Diego, California, a manufacturing and distribution facility in Modesto, California, and an electronic assembly plant in Shenzhen, China. Contact DeltaTRAK by phone at 1-800-962-6776 or by email at marketing@deltatrak.com. Additional information can be found at www.deltatrak.com .

Delta TRAK
PO Box 398
Pleasanton, CA 94566
Voice: 925-249-2250
Email: marketing@deltatrak.com