Cold Capillary Controls offer drop-in-place installation.
Press Release Summary: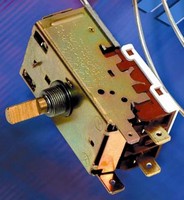 Manufactured in universal package size, K Series thermostats adapt to any commercial refrigerator or freezer. They provide precise cold temperature control over temperature ranges from -25 to +104°F with differentials from 5.4 to 25°F, depending on model. While KD features auxiliary switch, KS incorporates automatic defrost feature, KP comes in standard or wide switching differential versions, and KX features high-temperature signal lamp.
---
Original Press Release:

Selco Products Introduces Cold Capillary Controls



Featuring Universal Fit and Wide Temperature Range Selection

ANAHEIM, Calif. - April 11, 2006 - Selco Products Company has announced the immediate availability of a complete new line of cold capillary thermostats designed to provide precise cold temperature control for a variety of applications such as refrigeration, freezer, display case coolers, and automobile air conditioning.

Manufactured in a standard "universal" package size, these thermostats are ready for drop-in-place installation and easily adapt to virtually any commercial or residential refrigerator or freezer, affording easy and cost-effective replacement for a wide range of OEM controls.

The new K Series consists of the KS, KD, KP and KX thermostats. Features common to the series include body style, package size, UL, C-U-L and VDE approval, S.P.S.T (single pole, single throw) switches, and a wide selection of preset temperature ranges, differentials, capillary lengths, and knob accessories. Temperature ranges are from -25°F to 104°F (-32°C to 40°C) and differentials range from 5.4°F to 25°F (3°C to -14°C), depending on model. Other performance characteristics include 250V, 6Amp @ 50Hz, contact resistance of <50m Ω, and tolerances of 2.7°F (1.5°C) at the calibration point.

Though similar in primary control functions and adaptability, these cold controls provide varying functionality so that OEMs can easily select a control unit best suited for their specific application requirement. For example, in addition to the S.P.S.T. switch, the KD thermostat also features an auxiliary switch that only opens in the "off" position and closes on temperature rise, providing increased temperature control flexibility. Second in the series is the KS thermostat. It incorporates an automatic defrost feature that can also be activated by manually pressing the defrost pin. The main switch is opened and locked until the proper defrost temperature is reached, assuring correct cold and defrost control. For variable switching function application requirements, the KP thermostat is available in either a standard switching differential version or wide switching differential version. And last in the group is the KX, which features a signal lamp that lights to indicate high temperature - at which point the switch closes automatically.

"With its universal footprint and wide range of selection options, OEMs should have no trouble utilizing the K series in new and existing designs," said Diane Rutledge, Selco Product Manager. "Precise temperature control along with the ability for easy drop-in-place replacement, offer the type of value many OEMs seek."

The new Cold Capillary Controls are priced from $4.00 to $10.00 each in OEM quantities with delivery as fast as four weeks.

For further information on the entire line of Selco thermostats, thermistors, electronic controls, knobs, and digital panel meters, contact Selco/ECC, 605 South East Street, Anaheim, Calif., 92805-4842; Toll-Free: (800) 229-2332; E-mail: sales@selcoproducts.com; Web site: www.selcoproducts.com.

For more information contact:
Cynthia Guardia
Cia communications
(714) 998-9255
cynthiaguardia@adelphia.net

Selco/ECC:
Diane Rutledge
Product Manager
(800) 229-2332

More from Agricultural & Farming Products