Cold Air Tubes deliver sub-zero air.
Press Release Summary: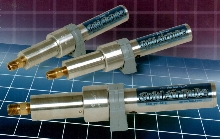 With no moving parts, Cold Air Tubes(TM) convert compressed air into low pressure stream of cold air that reaches temperatures as low as -20°F. They kill heat buildup that can slow production or create problems on parts and equipment. At less than 10 in. long, maintenance-free cooling component is adaptable for numerous applications, with 3 models available offering different cooling capacities. Tubes provide quiet operation and instant on/off.
---
Original Press Release:

Cold Air Tubes(TM) Deliver Sub-Zero Air


New Spot Cooling Component Solves Heat Problems

ITW Vortec has introduced Cold Air Tubes(TM) - a compact, ready-to-use source of refrigerated air. With no moving parts, the tubes convert compressed air into a low pressure stream of cold air that reaches temperatures as low as -20°F. Cold Air Tubes are designed to kill heat buildup that can slow production or create problems on parts and equipment. Their sub-zero airflows offer an effective spot cooling solution for use on machinery and in fabrication, assembly or processes. At less than 10" long, the maintenance-free cooling component is adaptable for numerous applications, with three models available offering different cooling capacities. Cold Air Tubes are easily installed, provide instant on/off performance, quiet operation, and are covered by a 10-year warranty.

For More Information:
ITW Vortec
Phone: 800/ 441-7475
Fax: 513/ 891-4092
Website: www.itwvortec.com
E-mail: techsupport@vortec.com
10125 Carver Road
Cincinnati, OH 45242

Related