Coin Cell Supercapacitors provide memory backup for circuits.
Press Release Summary: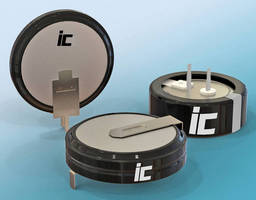 With 0.15-8 Farads capacity at voltages up to 5.5 WVDC, DC Series can supply sufficient power to provide on-board memory backup for preventing loss of data during power interruption. There are 3 case configurations available for horizontal, vertical, and center-lead mounting, and sizes can be as small as small as 6.8 x 4.6 mm. Operating from -40 to +85°C and 90-95% RH, series also offers accelerated charge/discharge cycling as well as IEC 62391 and RoHS compliance.
---
Original Press Release:

Coin Cell Style Supercapacitors Provide Memory Backup for Critical Circuits



The DC Series of Coin Cell Style Supercapacitors from Illinois Capacitor provide on-board memory backup at much longer life spans than batteries. With 0.15 to 8 Farads of capacity, at voltages up to 5.5 WVDC these devices can supply sufficient power to prevent loss of data during a power interruption. This is as much as five times the capacitance of some other coin type supercapacitors or ultracapacitors. Available in three case configurations for horizontal, vertical and center-lead mounting.

The DC Series includes numerous values and lead combinations with case sizes as small as 6.8 x 4.6 mm. Operating temperature ranges from -40°C to +85°C and 90-95% relative humidity. Other features include very fast charge/discharge cycling, IEC 62391 and RoHS compliance and low ESR.

DC Series capacitors are ready to board mount in such applications as smart meters, HVAC controls, building automation, business phone systems, appliances, instruments and other microprocessor-based devices. Because of their high power density, they can help to reduce board size and case requirements.

DC Series Film Capacitors are available from stock. Prices in 1,000 lot quantities start at: $0.55. For more information, contact: Illinois Capacitor, Inc., 3757 West Touhy Avenue, Lincolnwood, IL 60712. Phone: 847-675-1760; Fax 847-673-2850.
Web: www.illcap.com. email: sales@illcap.com. Product specific information at: http://www.illinoiscapacitor.com/products/dc_series.aspx

More from Software