Coil Heaters For Hot Runner Applications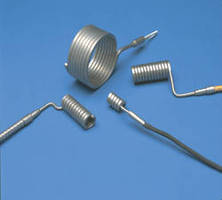 Durex Industries offers a complete line of formed coil heaters as high-performance heat sources for hot runner applications in the plastics industry. Both molding machinery manufacturers and plastic part molders will appreciate the benefits of these Durex heaters. These coil heaters feature a rectangular sheath, which enables wattage to be evenly distributed over the length of the injection nozzle assembly for optimum heat uniformity and improved material flow characteristics. Heater construction is designed for continuous high temperature (1250°F) operation and extended use. The heater assembly is transitioned to flexible leadwires of Teflon or fiberglass insulation with an additional protective jacket of either heavy-walled fiberglass sleeving or stainless steel braid. Stainless steel armor jacketing is also available.
Most designs feature an internal thermocouple for direct temperature detection, thus eliminating the need for a separate sensor. Durex coil heaters for hot runner systems are available in a wide assortment of ID and length dimensions to suit any current market application in the plastics industry.

For literature, pricing and stock availability, please contact, DUREX INDUSTRIES, 190
Detroit Street, Cary, IL 60013-2979 USA. Phone: (847) 639-5600. Fax: (847) 639-2199. Web: www.durexindustries.com. Email: sales@durexindustries.com. Attention: Terry Smith, National Sales Manager.

More from Communication Systems & Equipment