Coil-Feeding Line provides multiple operations.
Press Release Summary: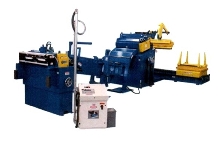 Coil-feeding line features CPRF SM-4-42 ServoMaster servo roll feed, capable of processing 0.080 in. thick x 42 in. wide material. It also includes CPPS-350-42 power straightener, SIKO digital roll-height indicators, ultrasonic loop control, and dual-axis peeler table for automated coil threading. CPR-30042 coil reel can handle 30,000 lb, 42 in. wide coil and includes hydraulic traveling coil car for material staging and changing.
---
Original Press Release:
Faurecia Exhaust Systems Breathes Easier with Coe Press Equipment

(STERLING HEIGHTS, MI) - Coe Press Equipment, a world-leading manufacturer of coil-feeding equipment for the metal-stamping industry, has completed installation of three fully integrated coil-feeding lines at Faurecia Exhaust Systems (Franklin, OH). These lines will provide material for Faurecia's production of exhaust systems, mufflers and catalytic converters.

Two of the coil-feeding systems are 36-in.-wide lines designed specifically for Faurecia's progressive-die stamping operations. The third system is a 42-in.-wide line integrated to a straight-side press, capable of multiple operations. This line features Coe's CPRF SM-4-42 ServoMaster servo roll feed, capable of processing 0.080-in.-thick x 42-in.-wide material. It also includes a CPPS-350-42 power straightener, SIKO digital roll-height indicators, ultrasonic loop control, and dual-axis peeler table for automated coil threading. The CPR-30042 coil reel can handle a 30,000-lb. x 42-in.-wide coil and includes a hydraulic traveling coil car for material staging and changing.

In addition to standard coil-handling equipment, Coe provided a telescopic exit conveyor and single-station drop stacker for use when producing blanks with this line. The stacker is designed with a T-shaped stack-handling conveyor system, allowing the line to remain running while the conveyor system provides effective pallet storage and removes the finished stacks.

Another line feature is the ability to rewind perforated coil stock. This material passes through the stacker frame to an inline tension stand and double-ended rewind reel. This material is used in supplying the internal baffles for the exhaust systems and mufflers Faurecia manufactures.

For more information, contact Jim Ward at Coe Press Equipment Corporation, 40549 Brentwood, Sterling Heights, MI 48310, phone (586) 979-4400, fax (586) 979-2970, website www.cpec.com
More from Software