Cohesive Dispenser suits individual/small volume users.
Press Release Summary: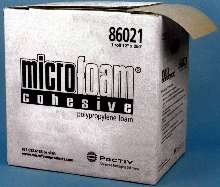 Microfoam® dispenses cold-seal coating that adheres to itself to form tamper-evident, protective packages that adapt to various product shapes. Structure is constructed of 1/16 in. layer of microfoam® closed-cell polypropylene foam laminated to 60# Kraft paper. Bleached white corrugated dispenser pack has 12 in. x 250 ft roll and measures 17 x 17 x 12 3/8 in. Cohesive coating only adheres to itself, not to products.
---
Original Press Release:

Pactiv Launches Microfoam® Cohesive Dispenser Pack


Lake Forest, Ill. (November 3, 2002)- Pactiv Corporation (NYSE: PTV) introduces a new way to dispense its cohesively-coated protective packaging product. The new microfoam® cohesive dispenser pack is an ideal sampling vehicle for individual or small volume users.

Microfoam® Cohesive features a special cold-seal coating that adheres to itself to instantly form a highly protective package. The structure begins with a 1/16-inch layer of microfoam® closed-cell polypropylene foam. Next a layer of 60# Kraft paper is laminated to the foam.

The cohesive coating, applied on the foam side, enables the material to adhere only to itself and not to the product being packaged (nor to the side which does not have cohesive coating).

This enables wraps or pouches to be easily formed by simply pressing the cohesive surfaces together. No additional closing adhesives or devices are required.

The microfoam® cohesive dispenser pack features a 12-inch by 250-foot roll. The bleached white corrugated dispenser shipper measures 17-inches (width) x 17-inches (height) x 12 3/8-inches (depth). To dispense, users unroll the desired length and tear or cut the piece from the rest of the roll.

The product adapts to a wide variety of product shapes, helps lower shipping costs and is fast and easy to use.

Because the cohesive seal is destroyed when the contents are opened, microfoam® cohesive is also tamper-evident.

Products and/or markets that are ideal applications for microfoam® cohesive products include:

o Automotive parts
o Aircraft parts
o Farm equipment
o Unfabricated metals
o Furniture, appliances
o Electronics, computers
o Books, printed materials
o Marine products
o Toys, sporting goods
o Housewares
o Clothing
o Office/school supplies
o Pharmaceuticals
o Chemicals
o Medical instruments
o Industrial packaging
o Tools, hardware, construction
o Horticulture
o Mail order

Pactiv Corporation, (NYSE: PTV) a $2.8 billion company, is a leading provider of advanced packaging solutions for the consumer, with the Hefty® brand, foodservice/food packaging and protective/flexible packaging markets. The specialty packaging leader currently operates 72 facilities in 13 countries around the world. For more information about Pactiv, visit the company's web site at www.pactiv.com.


More from Controls & Controllers