COFDM Demodulator is NorDig Unified 1.0.1 compliant.
Press Release Summary: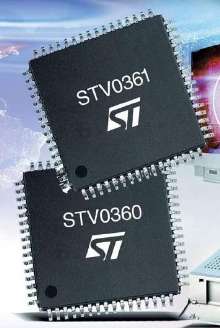 STV0361 COFDM (Coded Orthogonal Frequency-Division Multiplexing) demodulator chip performs front-end processing of terrestrial digital TV transmissions throughout Europe. It features automated echo protection and manages signals containing echoes by synchronizing up to 260 µsec outside guard interval. Doppler shifted signals are detected and processed in accordance with NorDig requirements, using adaptive channel correction in time and frequency.
---
Original Press Release:

STMicroelectronics Introduces Single-Chip COFDM Demodulator Compliant with the NorDig Unified Standard


New front-end device matches the latest European standard for terrestrial digital TV, with automatic control of multipath and Doppler echo protection

Geneva, December 22, 2004 - STMicroelectronics (NYSE: STM), one of the world's leading suppliers of System-on-Chip (SoC) solutions for digital TV and the world's largest supplier of silicon chips for set-top boxes*, has announced a new COFDM demodulator chip that performs the front-end processing of terrestrial digital TV transmissions throughout Europe. The new STV0361 complies fully with European standards for COFDM (Coded Orthogonal Frequency-Division Multiplexing) demodulation, including the European Broadcasting Union Digital Video Broadcasting -Terrestrial (EBU DVB-T) specification (ETS 300 744), and in particular with the NorDig Unified 1.0.1 standard.

The new chip is designed for digital and hybrid TV sets, terrestrial set-top boxes (STBs) and digital video recorders. It connects seamlessly to ST's industry-standard OMEGA back-end devices to create highly cost-effective chipsets for this price-sensitive market. It is hardware and software compatible with the existing and widely-used STV0360 and no engineering effort is required to take advantage of its improved specification. The echo protection capability of the STV0360 - which required control from the host set-top box (STB) - has been completely automated in the STV0361.

NorDig is a cooperative organization of Nordic television and telecom companies which seeks to formulate a common strategy for the introduction of digital TV in the Nordic countries (Denmark, Finland, Iceland, Norway, and Sweden), in an open and standardized market. The NorDig Unified specification version 1.0.1, which is now seen as an appropriate standard for the whole of Europe, combines the older NorDig I and NorDig II specifications. The STV0361 meets and exceeds the demodulation requirements of NorDig Unified v1.0.1.

Compared to satellite and cable networks, terrestrial services face additional front-end challenges. Terrestrial demodulators have to cope with 'dirty' signals due to multipath echoes from surrounding buildings and moving objects, and with similar effects in single-frequency transmitter networks. In addition, man-made radio-frequency interference from electric motors, car ignition systems, and light switches, and noise from external sources such as lightning strikes, can cause picture defects or blackouts.

The STV0361 can manage signals containing such echoes by synchronizing up to 260 microseconds outside the guard interval. Doppler shifted signals, seen in mobile applications or where an echo is received from a moving object, are detected and processed in accordance with NorDig requirements, using adaptive channel correction in both time and frequency.

The STV0361 is supplied in a TQFP64x64 10x10mm package, and is available in volume production priced around US$4.50 in quantities of 100K units.

Information about NorDig is available at www.nordig.org

About STMicroelectronics

STMicroelectronics is a global leader in developing and delivering semiconductor solutions across the spectrum of microelectronics applications. An unrivalled combination of silicon and system expertise, manufacturing strength, Intellectual Property (IP) portfolio and strategic partners positions the Company at the forefront of System-on-Chip (SoC) technology and its products play a key role in enabling today's convergence markets. The Company's shares are traded on the New York Stock Exchange, on Euronext Paris and on the Milan Stock Exchange. In 2003, the Company's net revenues were $7.24 billion and net earnings were $253 million. Further information on ST can be found at www.st.com.

* InStat/MDR - MPEG Video IC Market: Larger than Ever - June 2003 (Report number IN030573MI)

More from Thermal & Heating Equipment