Coco Husk-Based Filter fosters sustainable septic solutions.
Press Release Summary: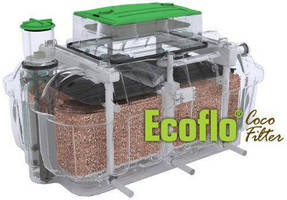 As permanent septic installation that does not require any energy, NSF International-certified Ecoflo® Coco Filter fully protects ecosystems using 100% natural coco husk fragment-based filtering media that biologically treats pollutants and acts as barrier to retain solids. Media must be replaced after usage, and choice of natural organic filtering media used allows for recycling of spent filtering media at end of useful life to produce renewable energy or compost for soil enrichment.
---
Original Press Release:

Premier Tech Aqua Achieves a Breakthrough in Innovative and Sustainable Septic Solutions with the Newly NSF-Certified Ecoflo® Coco Filter



QUÉBEC — After 30 years of R&D efforts and the continuous improvement of its compact biofiltration technologies for the onsite wastewater treatment industry, Premier Tech Aqua (PTA), a Business Unit of the Environmental Technologies Group of Premier Tech, announces today that it has achieved a breakthrough and proudly launches its recently NSF International certified Ecoflo Coco Filter.



In addition to its existing line of award-winning and eco-friendly Ecoflo Biofilter septic solutions, the new Ecoflo Coco Filter is a model of sustainable development - a permanent septic installation that fully protects ecosystems using a filtering media mindful of its impact on the environment and the prosperity of future generations.



The system is based on an innovative, 100% natural coco husk fragment-based filtering media that biologically treats pollutants and acts as a barrier to retain solids. As with any filter, the media has to be replaced after usage, and the choice of natural organic filtering media used in any Ecoflo model allows for recycling of the spent filtering media at the end of its useful life to produce renewable energy or a compost for soil amendment. Most of the other filtering media utilized in onsite septic systems, such as sand, textile or foam, create unwanted trash at the end of their useful life.



"Our product development teams constantly challenge themselves with one goal in mind: developing innovative, high-performance, reliable and durable products with the smallest environmental footprint possible. The needs of all stakeholders remain central to our discussions, including consultants who design treatment systems with our technologies, installers who place our products into the ground and homeowners who trust our company to protect the environment and the value of their property for years to come.", affirmed Mr. Henri Ouellet, President of the Environmental Technologies Group at Premier Tech.



With a filtering media capable of sustaining a 40% increase of treatment capacity, the Ecoflo Coco Filter offers a significantly more compact filtering media surface and treats wastewater with no energy. Homeowners can enjoy the same high-performance and low-maintenance septic solution as Ecoflo Biofilter, but in a 40% smaller shell. Customers benefit from the best ratio in terms of price, quality, performance, durability and sustainability for any onsite wastewater treatment product currently available on the market.



"This new Ecoflo product line is the result of years of sustained research work from our R&D team who have focused on the development of recyclable filtering media offering high performances and durability at a competitive price. The vast expertise and commitment of our multidisciplinary research team are the reasons why Premier Tech Aqua continually pushes the limits of our sustainable compact biofilter technologies. This NSF International certification reaffirms our expertise and commitment towards bringing innovative, affordable and green technologies to the market and to customers.", added Mr. Roger Lacasse, Vice-President of Research & Development at Premier Tech Aqua.



Corporate profile



For 90 years, Premier Tech has built its know-how and reputation on the expertise and synergy of its three Groups - Horticulture and Agriculture, Industrial Equipment and Environmental Technologies. Driven by a multidisciplinary team of over 2 700 people located in the Americas, Europe and Asia, Premier Tech focuses on the development of its team members, on Innovation, and on the introduction of value-added products and services to support its long-term growth.



About Premier Tech Aqua

A Business Unit of the Environmental Technologies Group of Premier Tech, Premier Tech Aqua (PTA) has become an international leader in the field of onsite and decentralized wastewater treatment technologies for the residential, municipal, commercial, community, industrial and institutional sectors. With more than 70,000 biofiltration wastewater treatment systems installed around the world, each coupled with a rigorous inspection, maintenance and documented follow-up program performed by a vast network of local service partners, PTA is undoubtedly one of the leaders of its industry.



CONTACT: 

France Bégin Parent

Public Relations Supervisor

Premier Tech

418 867-8883, ext. 6059

communications@premiertech.com

More from Test & Measurement