Cobalt Steel Drill Bits are designed for hard metals.
Press Release Summary: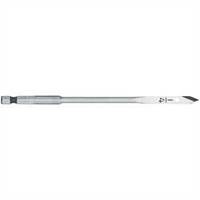 Offered as model numbers DW1204(B)-DW1232(B), DW1263, and DW1269, cobalt PILOT POINT® drill bits are engineered for use on stainless steel and other hard metals. Each bit (3/16 in. and up) is designed with 130° pilot tip on top of 130° split point with 4 cutting edges. This minimizes walking on material and enables bit to start on contact. While open-head flute design aids material removal, no-spin shank has 3 flats that provide positive lock on chuck to prevent slippage in tool.
---
Original Press Release:
DeWalt Launches First-Ever Cobalt Pilot Point® Drill Bits
-- New Metal Drilling Accessories Offer Best-in-Class Performance, Longer Bit Life and Wide Product Range -- February 2007 - DeWALT, a leading manufacturer of industrial power tools and accessories, announced the launch of its cobalt PILOT POINT® drill bits (DW1204(B)-DW1232(B) bits; DW1263 bit & DW1269 bit). Available in April 2007, the new metal-drilling accessories provide end users with best in class performance, increased bit longevity and a large product offering to meet the needs of a wide-range of applications. These bits are engineered for best in class performance in stainless steel and any other hard metals. The new bits are ideal for professional contractors, metalworkers, residential electricians, residential plumbers, framers and other professional construction end users. Performance DeWALT designed the bits with a new derivative of DeWALT's famous patented PILOT POINT® tip design. This innovative new tip design provides users with faster drilling speeds, accurate and clean round holes in metals. Because the PILOT POINT® tip design allows the bit to pre-drill a smaller hole, it enables users to penetrate materials faster than standard drill bits. Each bit (3/16" and up) is designed with a 130° pilot tip on top of a 130° split point with four cutting edges. This significantly reduces walking on material and enables the bit to start on contact. Each bit also has three flats on the shank in order to prevent bit slippage in the tool. The bit dimensions are also laser etched above the flats on the shank, in order to ensure easy identification and prevent the markings from wearing off. The DEWALT cobalt PILOT POINT® drill bits deliver 40 percent longer life than other competitor's bits in stainless steel. The speed and efficiency of the new DEWALT product also optimizes the battery life of cordless tools. Durability For increased durability, the patented web design provides a thicker web at the base of the shank. This offers users a stronger bit core, which results in less breakage, an issue with many standard bits when drilling into stainless steel. Additionally, DeWALT designed the PILOT POINT® bits with a no-spin shank with three flats that provide a positive lock on the chuck, which keeps the bit from spinning in the chuck. The optimized open-head flute design allows for easy material removal delivering a more efficient bit and promoting longer bit life. Each bit is made from cobalt steel, which creates a more wear resistant bit that is ideal for drilling into stainless steel and other high-end metals. There are 29 PILOT POINT® bit offerings available in various lengths and diameters to meet a wide-range of metal drilling needs. About DeWALT (www.dewalt.com) DeWALT is a leading manufacturer of industrial power tools with more than 300 power tool and equipment products as well as 800 power tool accessories, including corded and cordless drills, saws, hammers, grinders, routers, planers, plate joiners, sanders, lasers, generators, compressors and nailers, as well as saw blades, metal and masonry drill bits, abrasives, screw driving accessories and more. DeWALT tools can be found wherever tools are sold, nationally and internationally. With more than 1,000 factory owned and authorized locations DeWALT has one of the most extensive service and repair networks in North America. CONTACT: Michele Tomlinson Warschawski 410-367-2700 x24 michele.tomlinson@warschawski.com Erin Bradin Warschawski 410-367-2700 x18 erin.bradin@warschawski.com
More from Chemicals & Gases