CoB LED Arrays correlate to Gamut Area Index (GAI).
Press Release Summary: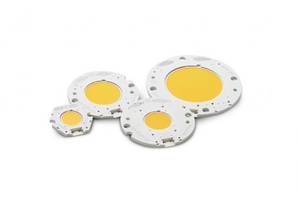 By appealing to natural perception of light, Vero® Decor Series™ Class A Chip-on-Board (CoB) LED arrays can help improve aesthetics, visits, purchases, and revenue per square foot for applications in high-end retail, hospitality, museums and commercial spaces. Products are available in 4,000K and 3,000K CCT.
---
Original Press Release:
Bridgelux Launches New
New Decor Series Class A products are the first commercially available LED arrays on the market to meet the full Class A Color specification

LIVERMORE, Calif. -- Bridgelux, a leading developer and manufacturer of LED lighting technologies, will debut its new Vero(®) Decor Series(TM) Class A Chip-on-Board (CoB) LED array products at the Hong Kong International Lighting Fair 2014. The launch of the Decor Series Class A arrays marks Bridgelux's new "human-centric" approach to product development and color targeting by using Gamut Area Index (GAI) to measure how light and color appeal to and are perceived by the human brain.

Available through global channels in mid-November, the new Decor Series Class A arrays are the first products to use the full Class A Color specification from the Lighting Research Center (LRC) at Rensselaer Polytechnic Institute and the Alliance for Solid-State Illumination Systems and Technologies (ASSIST).

In research and development since 2002, Class A Color was created at the LRC with funding by ASSIST.  Class A Color redefines high color quality of light. The long-term study examined how people perceive white light sources and what they prefer in terms of color rendering and the white hue or tint of a light source. Bridgelux specifiers and engineers developed prototype lamps based on the Class A Color spectral requirements for the LRC to use in field evaluations.

"Class A Color has been broadly tested and 'tuned' to ensure the most pleasing blend of naturalness and vividness based on subjective human perceptions," said Jean Paul Freyssinier, senior research scientist at the Lighting Research Center. "A majority (75 percent) of those tested from around the world agree that Class A Color light sources provide the best color rendering and optimum saturation levels. It's consistent lighting that won't disappoint."

Distinguished by its human appeal, brightness and natural rendering, Class A colors are inherently more vivid and whites are their whitest due to a broader spectrum of colors and saturation. By achieving a balance of color properties that match how people perceive color, the Bridgelux Decor Series Class A LED arrays not only deliver superior color quality, but provide a better return on investment when compared to traditional halogen and ceramic metal halide bulbs.

Decor Series Class A LEDs consume 30 percent less energy, generate 70 percent less heat, and last 20 times longer than halogen or metal halide light sources.

Lighting has become a critical design feature for high-end retail and commercial spaces, with solid-state LED technologies playing a vital role in helping businesses differentiate and stand out to their customers. Whether creating ambience in a luxury hotel lobby, showcasing merchandise in a retail store or illuminating museum works of art, Decor Series Class A LED arrays deliver a stunning visual experience by appealing to people's natural perception of light, helping to drive improved aesthetics, increased visits, customer purchases and revenue per square foot.

"The launch of our Decor Series Class A LED arrays is a game changer for Bridgelux, our customers and the industry," said Brad Bullington, CEO of Bridgelux. "Light has the power to influence how people behave, what they purchase, their productivity and their mood. Our new human-centric approach harnesses that potential to help our customers create custom light experiences that deliver great aesthetics and a tangible financial impact."

Traditionally, the lighting industry uses Color Rendering Index (CRI) as a primary measure of light quality; however, CRI only measures color distortion. Gamut Area Index (GAI) measures color saturation and strength to more accurately reflect the holistic effect of light and how a person will perceive color.  Bridgelux Decor Series Class A is engineered at the optimal GAI and CRI combination based on human perception of light.

Bridgelux Vero Decor Series Class A arrays will be available in 4000 K and 3000 K CCT. They're designed for applications including high-end retail, hospitality, museums and commercial spaces.

For more information about Class A Color research and development, please visit:
http://www.lrc.rpi.edu/programs/solidstate/colorResearch.asp

For more information about Bridgelux Decor Series Class A Chip-on-Board (CoB) LED array products, please visit www.bridgelux.com.

About Bridgelux
Bridgelux is a leading developer and manufacturer of technologies and solutions transforming the $40 billion global lighting industry into a $100 billion market opportunity. Based in Livermore, California, Bridgelux is a pioneer in solid-state lighting (SSL), expanding the market for light emitting diode (LED) technologies by driving down the cost of LED lighting systems. Bridgelux's patented light source technology replaces traditional technologies with integrated, solid-state lighting solutions that enable lamp and luminaire manufacturers to provide high performance and energy-efficient white light for the rapidly growing interior and exterior lighting markets. For more information about the company, please visit www.bridgelux.com.

Bridgelux, the Bridgelux stylized logo design, and Vero are registered trademarks, and V Series is atrademark, of Bridgelux, Inc.  All other trademarks are the property of their respective owners.

Contact:
Press inquiries:
Caitlin Tridle
Ruder Finn
tridlec@ruderfinn.com
(217) 377-6722

Company inquiries:
Stacey Duncan
Director of Marketing Communications
staceyduncan@bridgelux.com
(925) 583-8432