Coaxial Cable Stripping Machines have benchtop form factor.
Press Release Summary: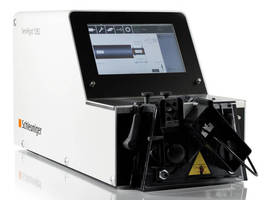 While uses for SemiRigid 1050 include stripping aluminum or copper jacketed semi-rigid coaxial cables, uses for multi-step CoaxStrip 5200 include stripping of coaxial, multi-conductor cable and single conductor wire. CoaxStrip 5200 employs universally designed blades, centralizers, and clamping jaws for processing range of cables without necessitating mechanical adjustments. Both machines feature Hi-Res color touchscreen interface and intuitive programming.
---
Original Press Release:

Schleuniger, Inc. to Demonstrate Benchtop Stripping Machines at WHMA Wire Harness Conference



Machines To Be Shown Include the SemiRigid 1050 and CoaxStrip 5200 Among Others



Schleuniger, Inc., a leading international manufacturer of high-precision wire processing machines and member of the Wire Harness Manufacturer's Association (WHMA), will present and exhibit at the 2015 WHMA Annual Wire Harness Conference at the Renaissance Las Vegas Hotel in Las Vegas, NV, February 18 - 20, 2015. The conference will feature presentations on the latest issues facing the industry and include a small trade show of industry leading suppliers.  During the trade show, Schleuniger will be demonstrating select equipment from its line of benchtop wire stripping machines.



Attendees will have the opportunity to meet with Schleuniger's wire processing experts and experience hands-on demonstrations of Schleuniger's two newest coaxial cable stripping machines, the SemiRigid 1050 and CoaxStrip 5200. The SemiRigid 1050 is a highly specialized machine for stripping aluminium or copper jacketed semi-rigid coaxial cables. This machine offers the precision and flexibility needed to process valuable semi-rigid coaxial cable at the highest possible quality. The CoaxStrip 5200 is a multi-step stripping machine for coaxial, multi-conductor cable and single conductor wire. Thanks to the universally designed blades, centralizers, and clamping jaws, the machine can process a full range of cables without the need for mechanical adjustments, saving the user valuable time and increasing output when switching between applications. Both machines feature a user-friendly, high-resolution color touchscreen interface and intuitive programming.



In addition, Schleuniger will be demonstrating the UniStrip 2300, RotaryStrip 2400 and UniStrip 2550. These programmable wire stripping machines feature an intuitive touch screen user interface, are able to strip different wire sizes without requiring mechanical adjustments, and have a highly responsive trigger sensor that is great for small, flexible wires. All of the machines being shown provide users with the high level of quality and precision they have come to expect from Schleuniger.



Along with exhibiting in the trade show, Schleuniger will also provide a short presentation during the "What's New in Our Industry" sessions, highlighting the company's latest products and solutions.



Schleuniger has participated in the WHMA Annual Conference for several years now and is proud to be part of an organization that is dedicated to addressing the specific needs of the wire harness and cable industry.



More information can be found at www.schleuniger-na.com/whma. Should you have any questions, please e-mail sales@schleuniger.com or call (603) 668-8117.



About the Schleuniger Group

The Schleuniger Group in Thun is a globally active technology company and a leading supplier in the Wire Processing industry. Customers of the Schleuniger Group primarily supply the automotive, entertainment, and information industries as well as the communication sector. Schleuniger products are used whenever precise wire processing plays a role. Development and production are located in Switzerland, Germany, and China. Schleuniger is always close to its customers - with four Sales and Service companies in the US, Germany, China, and Japan as well as with 40 distributors worldwide. The Schleuniger Group represents the independent Business Unit Wire Processing of the listed Metall Zug Group and has about 500 full-time employees and 30 trainees worldwide.



Schleuniger, Inc.

Media Relations  

87 Colin Drive   

Manchester, NH 03103

Phone: (603) 668-8117  

Fax: (603) 668-8119   

www.schleuniger-na.com   

marketing@schleuniger.com

More from Machinery & Machining Tools