Coating controls insect infestation on paper packaging.
Press Release Summary: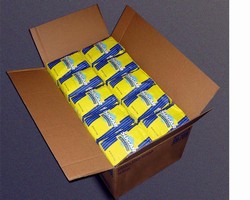 BugBan(TM) 9000 is water-based, repulpable coating for paper and paperboard substrates that can be applied on corrugated or folding carton either off-line or in-line, using Rod, Blade, Flexo, Gravure, or Size Press application methods. EPA approved product is suited for applications including outside of corrugated surfaces, folding cartons, and wood and corrugated pallets used in transporting of food.
---
Original Press Release:

Michelman Introduces Bugman 9000 Has the Solution for Eliminating Insect Infestation on Packaging



CINCINNATI, OH (May 16, 2006) - Michelman, a global leading manufacturer of performance-enhancing coatings for the paperboard and corrugated box industry, has announced the availability of BugBan(TM) 9000. BugBan(TM) 9000 is a cost-effective water based repulpable coating for paper and paperboard substrates, which reduces the liability associated with insects found in packaging. It was specifically designed to not just repel insects, but to effectively eliminate the insects before they can penetrate the package - for the entire life of the package.

Annual costs of insect infestation in the sugar, cereal, flour and pet food markets total $226,000,000. BugBan(TM) 9000 can save retailers, distributors, food processors, and customers money by reducing damage to food packaging caused by insects, and eliminating insects from potentially ending up in customers' grocery carts or on retailer floors.

The EPA has approved the use of BugBan(TM) 9000 for the outside of corrugated surfaces, folding cartons, wood and corrugated pallets used in the transporting of food. Furthermore, controlled studies have shown that material handlers of packaging coated with BugBan(TM) 9000 do not experience any significant transference of the product to their hands, even under wet conditions. Other studies have confirmed that the active ingredient does not migrate through the paper that has been treated to the food contact side.

Testing for BugBan(TM) 9000 was done at four different Universities on a wide variety of insects - including yellow jacket wasps, fire ants, German cockroaches, and Indian meal moths. All reports demonstrated 100 percent effectiveness in eliminating the insect pests within 24 hours - eradicating 70 percent in the first five hours.

BugBan(TM) 9000 can be applied on corrugated or folding carton either off-line or in-line using the following application methods: Rod, Blade, Flexo, Gravure or Size Press.

Other applications include wood and corrugated pallets.

About Michelman

Michelman is a global manufacturer of performance-enhancing functional and decorative coatings for the paper and paperboard industries; and additives for many industries including non-wovens, fiberglass, paint, ink, and wood treatments.

For more information, please contact Michelman, 9080 Shell Road, Cincinnati, OH 45236. Phone: (800) 333-1723. Fax: (513) 793-2504. Internet: www.michem.com.

http://www.expandingpaper.com/

More from Machinery & Machining Tools