Coated Tape changes color when exposed to laser power.
Press Release Summary: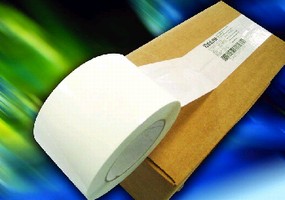 Offering label replacement for outer case secondary packaging, DataLase® CASEMARK Tape does not have any backing paper and does not require inks or ribbons. It changes from white to black upon exposure to low power CO2 laser. Apply-and-print technique enables information to be printed on tape after it has been applied to case. If tape is removed from carton after imaging has occurred, image is automatically transferred to box, leaving permanent image as evidence.
---
Original Press Release:

DataLase Launches Its New DataLase® CASEMARK(TM) Tape Solution



(November 14 2006) - DataLase (formerly Sherwood Technology), originator of the award winning DataLase® process, unveils a new addition to its DataLase® CASEMARK offering - DataLase® CASEMARK Tape.

DataLase® CASEMARK Tape is a new cost-effective label replacement solution for outer case secondary packaging. Featuring DataLase® coated tape, this fully integrated system produces a color change in the tape from white to black on exposure to a low power, DataLase approved CO2 laser. The laser based print engine is highly efficient with almost 100% production uptime. The lifetime of the laser is over 30,000 hours and compared to thermally printed labels, requires little maintenance and no replacing of print heads due to wear and tear.

The new DataLase® CASEMARK Tape offers a number of unique benefits to the market. As the tape does not have any backing paper nor require any inks, ribbons or other costly consumables, the technique is much simpler, cheaper and more environmentally friendly than traditional print-and-apply labels. Additionally, the "apply-and-print" technique enables information to be "printed" on the tape after the tape has been applied to the case, as opposed to traditional thermal labelling techniques, which require labels to be pre-printed and then matched to the correct carton late in the production cycle.

DataLase® CASEMARK Tape also provides unique brand protection features. As the DataLase® chemistry is integrated in the tape material and uses such a low power CO2 laser, it is possible to laser through the polypropylene surface of the tape (without affecting it), to effectively encase the image within the tape. It is virtually impossible to remove this image, even with chemicals or solvents. In addition, if the tape is removed from the carton after imaging has occurred, the image is automatically transferred to the box, leaving a permanent image as evidence.

Steve Kelly, CEO of DataLase comments, "DataLase is keen to offer a wide range of product identification solutions to the market, to satisfy a number of applications. With the new DataLase® CASEMARK Tape we are able to offer our customers a simple alternative to print-and-apply labels which offers significant cost savings."

More information about the award winning DataLase® process is available at www.datalase.com or by e-mail at usainfo@datalase.com (for USA) and info@datalase.com (for all other enquiries).

Background to DataLase:
DataLase, the originator of the award-winning DataLase® process, is a fast growing technology company, providing patented, innovative laser marking solutions across a diverse range of sectors. With its headquarters in Widnes, UK, DataLase also has a significant US operation based in Atlanta, Georgia. The patented DataLase® process is suitable for applications including product identification and anti-counterfeiting. The company's product range incorporates specialist solutions for primary and secondary packaging, as well as alternatives to print-and-apply labels. DataLase is also developing applications such as direct tablet and food marking as well as full color printing for the future.

Head Office: DataLase, Unit 3, Wheldon Road, Widnes, Cheshire WA8 8FW
US Office: DataLase Inc., 30 Technology Parkway South, Suite 300, Norcross, GA 30092

More from Electronic Components & Devices