Coated Rubbers reduce deterioration of parts.
Press Release Summary: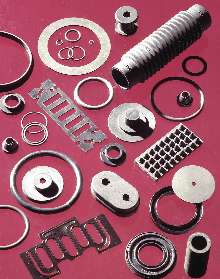 Elastoguard® antimicrobial, heat-cured, rubbers control and halt growth of bacteria, fungi, and yeasts. Able to withstand repeated surface abrasion and washing, products utilize Antimicrobial Alphasan® silver-sodium-zirconium-phosphate ion-exchange resin, which permeates entire rubber part for skin-to-core protection. Formulations range from natural rubber through EPDM and NBR grades to fluoroelastomers in Shore A hardness ranges from 40-90.
---
Original Press Release:

Milliken's New Elastoguard® Antimicrobial Rubber Addresses Cleaning Challenges, Reduces Downtime & Deterioration of Parts


SPARTANBURG, S.C. - (May 28, 2003) - The Speciality Elastomers Business of Milliken Chemical, a division of Milliken & Company, headquartered in Spartanburg, S.C., U.S.A., today announced the introduction of a new line of antimicrobial heat-cured rubber compounds that can help solve cleaning challenges in food-processing, packaging, medical, industrial, and other applications prone to microbial growth. Called Elastoguard(R), these patented antimicrobial elastomers provide an effective way to control, if not halt, the growth of bacteria, fungi, and yeasts on rubber parts, while avoiding challenges that organic biocides have posed in the past.

Rubber parts can be particularly vulnerable to attack by bacteria and fungi because their chemical constituents provide an ideal source of nutrients that support microbial growth. Furthermore, rubber parts are often used in warm, moist environments rich in microorganisms - conditions that are ideal for proliferation of these life forms. This, in turn, can lead to costly cleaning challenges requiring significant equipment downtime and disassembly and premature deterioration of elastomeric components.

To reduce or inhibit microbial growth both within and on the surface of rubber parts, compounders have traditionally blended antimicrobial (AM) additives into elastomers. However, the chemicals used have tended to leach out of the matrix material, so not all areas of a part are protected, and the microbe-suppressing properties diminish over time as the additive migrates away. These chemicals also tend to degrade at elastomeric processing temperatures exceeding 250C, causing them to volatilize and corrode the rubber-molding equipment. Additionally, the presence of such chemicals can contribute an unpleasant taste or odor to the elastomer. Finally, there are growing concerns about the safety of many commonly used organic biocides.

In response to this problem, Milliken Speciality Elastomers has developed the patented Elastoguard family of antimicrobial rubber compounds. These elastomers have demonstrated excellent control of microbial growth - both incremental and long-term, and on the surface as well as inside the treated material - even after repeated surface abrasion and washing. In fact, performance is enhanced over time by usage and by other actions that occasionally scuff up the surface of the part, exposing more of the silver-based antimicrobial agent used in the new materials.

The new and patented biocide used in Elastoguard compounds - Antimicrobial Alphasan(R) silver-sodium-zirconium-phosphate (silver-NZP) ion-exchange resin - permeates the entire rubber part, so it provides skin-to-core protection without the zones of inhibition and non-inhibition common with organic biocides. The silver-based AM agent is non-leaching, so parts achieve much more thorough and long-term protection than is offered by organic biocides. It is also extremely heat stable (>800C) and works by slowly releasing silver ions (Ag+), which are exchanged for other common, positively charged ions readily available in the surrounding environment. Scientists theorize that the silver is absorbed by the microbes (along with other essential ions), where it begins to interrupt formation of vital enzymes used in energy production, causing the microorganism to quickly lose its ability to grow and reproduce. Unlike antibiotics and certain organic biocides, silver's mechanism of action against microbes is very non-specific, making it extremely difficult and rare for microorganisms to develop resistance.

While highly effective as a biocide, silver-NZP is considered safe, non-irritating, non-toxic, and requires no special handling. Once vulcanized, the silver antimicrobial is encapsulated in the rubber matrix. It has attained numerous regulatory registrations around the world for contact with food and potable water and for use in medical devices. Silver itself has a long history of use as a biocide and today is used in numerous medical treatments. It has been used for millennia for eating utensils, cups, jewelry, and other decorative and functional devices that are safe for human contact.

The silver biocide is odorless, extremely insoluble, and neither flammable, explosive, nor corrosive. It does not impart an additional taste or smell to rubber and does not affect the color stability of the molded part, so it can be used in white or light-colored compounds. Furthermore, the silver-based biocide is not sensitive to heat or shear, so it can be used in elastomers formulated for a variety of processes without concern. Finally, this technology provides both antifungal as well as antibacterial properties to finished parts - a versatility that is rarely found among traditional antibacterial compounds.

Elastoguard antimicrobial heat-cured rubber compounds are now commercially available from Milliken Chemical in standard formulations ranging from natural rubber through workhorse EPDM and NBR grades, to high-performance fluoroelastomers, in Shore A hardness ranges from 40 to 90. Within these product families, the compounds are offered in a variety of presentations (forms), including slabs, strips, calendared sheet, granulated/pelletized, and preformed into specific shapes. Within each presentation offering, the compounds can further be produced in various thicknesses and sizes for customer convenience. The compounds can also be formulated for molding (compression, transfer, injection), continuous extrusion (LCM, UHF (where allowable)), autoclave and hot air, or for coatings. The only formulation challenge encountered to date was avoiding sulfur-based curing agents and accelerators, because sulfur complexes with the silver, rendering it ineffective as a biocide. This was overcome by switching to peroxide curing agents, a change that provides additional benefits including:

- Low compression set

- Good heat aging

- Better color characteristics

- Lower odor

- No reversion

- Increased resistance to hydrogen sulfide

Potential uses for elastomeric products with antimicrobial properties include coatings, seals, gaskets, O-rings, wheels, casters, diaphragms, bladders, packings, liners, tubing, and belts for applications such as:

- Medical and pharmaceutical equipment

- Food and beverage processing equipment

- Dairy handling/processing equipment

- Large and small appliances

- Storage tanks and containers

- Filtration and fluid handling equipment

- Sanitary fittings

- Sporting goods, clothing, and footwear

- Shower/sauna/bathroom fittings

- Conveyor belts and rollers

- Anti-fatigue matting

- Packaging machinery

- Building materials/roofing membranes

- Pool/pond liners

- HVAC ducting in automobiles

Milliken & Company is a diversified international textile manufacturer based in Spartanburg, S.C. The company's 14,000 associates work from 65 manufacturing facilities worldwide to produce over 38,000 different textiles and chemical products for a broad range of industries. As one of the largest privately held textile and chemical companies in the world, Milliken & Company's trail-blazing quality management programs have earned it the Malcolm Baldrige National Quality Award, the European Quality Award, the British Quality Award, and the Canada Award for Business Excellence in Quality, among others. The company is recognized as a global leader in continuous quality improvement, exceptional R&D, leading-edge product technologies, and excellent customer service and technical support.

For more information on Elastoguard antimicrobial heat-cured rubber compounds, contact:

In Europe & Asia: Bob Kerr, Milliken Chemical Speciality Elastomers, Hilton Fold Lane, Middleton, Manchester, M24 2HZ, U.K.; phone: +44(0).161.653.2807; e-mail: Bob.Kerr@Milliken.com.

In the Americas: Scott McDowell, Milliken Coated Products and Elastomers Business, 920 Milliken Road, Spartanburg, SC 29303, USA; phone: +1.864.598.0107; e-mail: Scott.McDowell@Milliken.com.

A Founding Member of APCO Industria, a Global Strategic Alliance of APCO Worldwide, AH&M Marketing Communications and The European Marketing Group (EMG). www.apcoindustria.com(TM)

More from Machinery & Machining Tools