Coated Aspheric Lenses work with high-power Nd: YAG lasers.
Press Release Summary: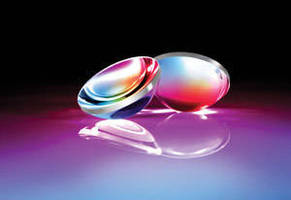 Featuring precision aspheric designs, TECHSPEC® Laser-Line Coated Precision Aspheric Lenses maximize performance in high-power Nd: YAG laser applications. RoHS-compliant lenses have Laser V-coatings with absolute reflectance of <0.25% at design wavelength, and UV fused silica substrate is resistant to thermal expansion. Supplied in 15 and 25 mm dia sizes, 12 models offer numerical apertures (NA) of 0.60, 0.50, and 0.42 and design wavelengths of 355, 532, and 1,064 nm.
---
Original Press Release:

TECHSPEC® Laser-Line Coated Precision Aspheric Lenses Designed for High Power Nd: YAG Lasers



Lenses offer high damage thresholds



Barrington, N.J. – Edmund Optics (EO), the premier provider of optical components, introduces its new TECHSPEC® Laser-Line Coated Precision Aspheric Lenses. These lenses, offering high damage thresholds, are designed to maximize performance in high power Nd: YAG laser applications.



Designs minimize spherical aberration

RoHS compliant TECHSPEC Laser-Line Coated Precision Lenses feature precision aspheric designs that minimize spherical aberration, which decreases laser spot size and maintains high power per area. The lenses have high performance Laser V-coatings with absolute reflectance of less than 0.25% at their design wavelength. The coatings have been optimized for the most popular Nd: YAG wavelengths and offer high damage thresholds. A UV fused silica substrate is highly resistant to thermal expansion.



Twelve different V-coated lenses available

TECHSPEC Laser-Line Coated Precision Lenses are available in twelve different models. They are offered in a 15 mm diameter size with numerical apertures (NA) of 0.60 with design wavelengths of 355 nm, 532 nm and 1064 nm and a 0.50 NA with design wavelengths of 355 nm, 532 nm and 1064 nm. A 25 mm diameter size has a 0.42 NA at design wavelengths of 355 nm, 532 nm and 1064 nm, as well as 0.50 NA models at 355 nm, 532 nm and 1064 nm. TECHSPEC Laser-Line Coated Precision Lenses are in-stock and available for immediate delivery for fast turnaround and excellent value. Custom diameters and coatings at your required wavelength are also offered to create a precision aspheric lens that meets your needs.



Stop by Booth #1514 to see on display during CLEO, May 12-14, San Jose, California.



About EO:

Edmund Optics® (EO) is a leading producer of optics, imaging, and photonics technology for R&D, electronics, semiconductor, pharmaceutical, biomedical, and military markets around the globe. EO is the world's largest supplier of off-the-shelf optical components. Customers can purchase items by contacting EO at 1-800-363-1992, via the catalog, or via the website at www.edmundoptics.com.



Company Contact:

Kirsten Bjork-Jones

Director Global Marketing Communications

Edmund Optics®, Inc.

101 East Gloucester Pike

Barrington, NJ 08007 U.S.A.

Phone: 1-800-363-1992

Fax: 1-856-573-6295

email: kbjork-jones@edmundoptics.com

More from Mechanical Components and Assemblies