Coalescing System skims, aerates, and separates coolant.
Press Release Summary: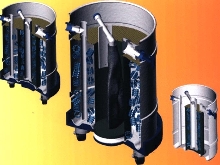 Muscle(TM) coalescing system can be customized with several options to meet machine shop needs. Regular, Plus, and Deluxe option packages are designed for portability, filtering, coalescing, improved separation, and fluctuating fluid levels. Options include: Sumpster, to remove floating oils; Coalescing Cartridge, to increase surface area; Fine Stopper, to remove floating chips and swarf; Oxygenator, to kill anaerobic bacteria; and Drum Dolly to provide portability.
---
Original Press Release:

Zebra Offers Muscle(TM) Coalescer In Three Different Models To Suit Any Machine Shop Need


Cleveland, OH, July 22, 2002 - Zebra Skimmers Corporation, a full line manufacturer of oil skimmers and coolant maintenance equipment, announced today that the Zebra Muscle(TM) coalescing system, a skimmer, aerator, and oil separator all-in-one, can now be customized with several options to meet the need of virtually every machine shop. The Regular, Plus and Deluxe option packages are specifically designed for portability, filtering, coalescing, improved separation and fluctuating fluid levels.

According to Mr. Steve Davidian, president of Zebra Skimmers, "The flexibility of our Zebra Muscle(TM) makes it a popular favorite for a wide variety of applications." Additionally, the Zebra Muscle(TM) saves money by optimizing coolant performance, improving tool life and reducing waste and disposal costs.

Performance options include the Sumpster, Coalescing Cartridge, Fine Stopper, Oxygenator and Drum Dolly.

The solid-metal Sumpster skimmer attachment removes floating oils without introducing air and is adjustable to various depths. The Coalescing Cartridge increases the surface area and minimum treacherous path and can be purchased separately as an upgrade for competitive units. The low cost Fine Stopper features a 100-micron filter bag and is ideal for floating chips or swarf. The Oxygenator kills anaerobic bacteria, is environmentally safe, and features fuel-grade tubing and an industrial-grade bronze air diffuser. Finally, the heavy-duty polyethylene Drum Dolly makes the Zebra Muscle(TM) portable, features three-inch casters, and offers 600-lb. capacity.

The Zebra Muscle(TM) features a translucent, 15-gallon barrel, an internal oil discharge skimmer; spinwelded, leak-proof fittings; non-kinking, crush-resistant coolant hoses; one-gallon per minute submersible pump; swivel pipe that eliminates coolant in oil output.

Because the Zebra Muscle(TM) is an all-in-one coalescing system, there's minimal maintenance and labor, no machine downtime, increased sump capacity, and no foul odors and coolant rancidity. The operator simply fills the drum with 12-gallons of freshly mixed coolant, connects the inlet hose to the pump, places the pump in the coolant, and secures the clean coolant discharge hose from the pump to the drum. "The Zebra Muscle(TM) will aerate, filter, and separate coolant from tramp oil so that coolant lasts longer," states Davidian.

Headquartered in Cleveland, OH, Zebra Skimmers Corporation is dedicated to providing customers with quality coolant maintenance products made with the best USA parts whenever available. Zebra Skimmers Corporation guarantees most products for at least one year and some forever. For more information on the improved Zebra Muscle(TM) or to request a comprehensive product catalog, contact Zebra Skimmers at 888-249-4855 or visit the Company's Web site at www.ZEBRA-US.com.


More from Electronic Components & Devices