CO2/O2 Incubator facilitates hypoxic research.
Press Release Summary: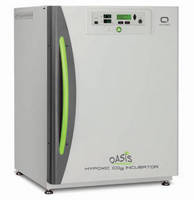 Creating ultra-stable conditions for cell culture, Oasis 6404 can precisely suppress and control oxygen concentration down to 1%. Unit includes IR sensor, tri-zone heating design, and overnight decontamination cycle with drying phase that eliminates cabinet wipe-down. Available in 115 V, 60 Hz or 230 V, 50/60 Hz, Oasis 6404 provides 6 ft³ capacity in benchtop or stackable format. Incubator has polished stainless steel interior with covered corners and antimicrobial powder-coated exterior paint.
---
Original Press Release:

CO2/O2 Incubator for Hypoxic Research is the Newest Addition to Caron's



(Marietta, OH,) Caron is pleased to announce the addition of a new Benchtop CO2/O2 Incubator (Model 6404) to its already acclaimed Oasis line, designed specifically for hypoxic applications. The new incubator creates ultra-stable conditions for cell culture with the added ability to precisely suppress and control oxygen concentration down to one percent.

"Adding the new suppressed O2 incubator model was a natural extension to our popular Oasis CO2 Incubator product line," said Joyce Abicht, Customer Service Manager. "Many of our customers require hypoxic conditions for their studies and can now take advantage of the technological advances and conveniences offered by the new Oasis incubator."

The Oasis series features a 6 cu. ft. capacity in a new compact, lightweight benchtop or stackable format. This sleek design includes proven technologies scientists have come to rely on in cell culture incubators along with innovations and product quality, setting it apart from competitive models. This affordable unit is available in either 115V, 60Hz or 230V 50/60 Hz.

Oxygen levels are controlled in hypoxic culture incubators by introducing nitrogen into the chamber. Injecting nitrogen will drive humidity levels down and will further create sluggish humidity recovery after door openings; however, Caron's advanced design provides exceptional recovery times.

"Caron's new CO2/O2 Oasis Incubator solves this historically slow humidity recovery problem with suppressed O2 incubators," said Dave Figel, Vice President of Engineering & Operations. "Oasis features a sparger, which forces nitrogen through water to rapidly return humidity levels to optimal conditions. Combined with IR sensor technology, this feature allows rapid recovery of all critical parameters to optimal culturing conditions."

The Oasis(TM) maintains high relative humidity and precisely controls temperature and CO2. Some standard features include: an Infrared (IR) Sensor; tri-zone heating design; rapid, overnight decontamination cycle with a drying phase that eliminates messy cabinet wipe-down; polished stainless steel interior with coved corners; an intuitive, easy to operate, intelligent control panel; ISOCIDE antimicrobial powder coated exterior paint and much more.

Many optional accessories are also available to customize this unit to a specific application.

For more information on the new Oasis(TM) benchtop CO2/O2 incubator, click here to visit the product page. You may also contact Customer Service for more information or to receive a quote at 800-648-3042 or by email at sales@caronproducts.com.

About Caron:

Caron Products & Services, Inc. is a Marietta, Ohio based manufacturer of environmental chambers for temperature and RH exposure testing; photostability chambers to conform to ICH Guidelines Q1B; CO2 incubators for small to large scale, high volume cell culture; and baths/circulators for precise temperature control of laboratory devices. For more information on Caron, visit our website at www.caronproducts.com, contact us at 800-648-3042, fax 740-374-3760, or e-mail sales@caronproducts.com.

More from Electrical Equipment & Systems