Gas and Chemical Sensors / Detectors
CO2 Gas Sensor delivers measurement accuracy of ±100 ppm.
Press Release Summary: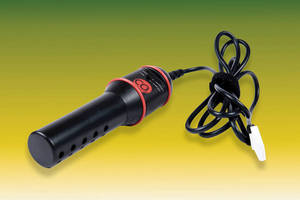 Designed for use with LabNavigator® instrument for continuous monitoring, time-based experiments, or routine monitoring applications, CO
2
gas sensor offers 0-10,000 and 0-100,000 ppm measurement ranges. It features resolution of 3-30 ppm, and operates at temperature of 25°C and humidity range of 5-95% (non-condensing). Response time is 95% of full scale reading in 120 sec. Sensor is suited for monitoring CO
2
levels in ambient air, respiration of organisms, or reactions in chamber.
---
Original Press Release:

Carbon Dioxide Gas Sensor



Applications

o Laboratories

o Environmental / Water / Wastewater

o Chemical / Petrochemical

o Testing / Measurement

o Industrial Plants / Manufacturing

o Government Institutions

o Pulp & Paper

o Food & Beverage

o Pharmaceutical

o Textiles

o Plastics

Forston Labs is proud to announce the new Carbon Dioxide Gas Sensor which measures gaseous carbon dioxide in two ranges: 0 to 10,000 ppm and 0 to 100,000 ppm. This easy to use, reliable sensor connects directly to the LabNavigator® instrument for continuous monitoring, time-based experiments, or routine monitoring throughout your facility. Export your data using NavPilot software provided with the LabNavigator instrument to view your data on a PC in NavPilot(TM) or in Microsoft® Excel®.

With this sensor, one can easily monitor changes in CO2 levels occurring in the surrounding ambient air, respiration of organisms, or reactions in a chamber. The CO2 Gas Sensor is easily calibrated using a calibration button.

Accuracy is ±100 ppm with resolution 3 ppm (low range); 30 ppm (high range). Response time is 95% of full scale reading in 120 seconds. Normal operating temperature range is 25°C. Operating humidity range is 5 - 95% (non-condensing).

Use this sensor by itself or with up to four other sensors, including GPS (for mapping data points with Google Maps(TM)). Choose from over 31 different sensors that are compatible with the LabNavigator: including electrochemistry, colorimetry, turbidity, and spectroscopy.

For more information contact us at 800-301-1259 or 970-237-4289 or visit www.forstonlabs.com

Please send all inquiries to:

Mr. Brian Williams

Forston Labs

4098 Trouble Trail

Fort Collins, CO 80524

Send email sales leads to: sales@forstonlabs.com

More from Sensors, Monitors & Transducers