CO2 Analyzer features continuous internal recalibration.
Press Release Summary: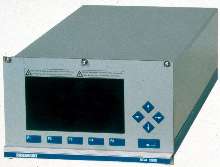 Rosemount Analytical NGA 2000 MLT 1 Multi-Component Gas Analyzer ensures 99.99% pure CO
2
for carbonated beverage industry. Non-dispersive infrared-based measuring cell utilizes proof-peak technique that continuously compensates for mechanical variations and circuitry that corrects for barometric pressure swings. More than 60 gas components can be measured. Unit is also available with Foundation Fieldbus communications and support for PlantWeb architecture.
---
Original Press Release:

Emerson's MLT 1 Analyzer Ensures Purity of Carbon Dioxide for Carbonated Beverage Industry


Gas analyzer recalibrates continuously for unequaled accuracy

ORRVILLE, OH (September 22, 2003) - Emerson Process Management has announced that its Rosemount Analytical NGA 2000 MLT 1 Multi-Component Gas Analyzer employs unique technology that assures 99.99 percent pure carbon dioxide (CO2), a critical ingredient of the quality of carbonated beverages. Whereas gas analyzer accuracy will normally vary with mechanical variation and atmospheric pressure, the MLT 1 remains stable and accurate by continuous internal recalibration.

CO2 gas is employed in the beverage industry to give an otherwise flat tasting liquid, sparkle and flavor. About four times the volume of CO2 is forced into each container to give the final drink its refreshing qualities. This represents a large amount of CO2 consumed by this industry. The CO2 must be very pure. Even minute quantities of common impurities can make the beverage taste bad, resulting in customer displeasure and leading to poor future sales and perhaps irreparable damage to a company's reputation.

It is essential for the CO2 gas supplier to make certain that any contaminants are minimized. At the CO2 gas manufacturing plants, periodic testing is carried out for compounds like sulfur and hydrocarbons, but residual gases like oxygen and nitrogen from the air may pass undetected. The best way to guarantee that the only gas present is CO2 is to continuously monitor its purity to be assured that it is 99.99 percent CO2 with a suitable analyzer. Unfortunately, all gas analyzer readings are dependant upon normal swings in the atmospheric air pressure. For example, a reduction of 1 percent room pressure as a weather front passes, will reduce the CO2 reading to 99 percent even though the gas purity is actually still at 100 percent. Frequent internal recalibration using a known pure CO2 test sample is generally impractical.

Emerson's Rosemount Analytical NGA 2000 MLT 1 Multi-Component Gas Analyzer, however, can make this continuous measurement by employing a non-dispersive infrared (NDIR)-based measuring cell. This cell utilizes a unique "proof-peak" technique to continuously compensate for the normal mechanical variations that take place in use and special circuitry for correcting for the barometric pressure swings. The result is an extremely stable and reliable CO2 monitor.

"One of the primary goals in the food and beverage industry is to provide products that are pure and consistent," said John Everhart, president of Rosemount Analytical. "A company using carbon dioxide in its beverages needs to know it will always be uncontaminated."

Other applications of the MLT 1 include:
o Trace monitoring of gas purity and air separation
o Control of stack gas cleaning systems
o Continuous emission monitoring systems
o Internal combustion engine emissions (ICEE)
o Engine and exhaust gas catalyst development

More than 60 gas components can be measured by the MLT 1, including: carbon monoxide, carbon dioxide, sulphur dioxide, nitric oxide/nitrogen dioxide, oxygen, phosgene, water, hydrocarbons, acetone, acrolein, hydrogen and chlorine.

The MLT 1 is available as a stand-alone analyzer, as a "system control analyzer" or analyzer module when combining several analyzers into a system.

In addition, the MLT 1 is now available with Foundation Fieldbus communications and supports Emerson Process Management's PlantWeb architecture. Analyzer data, including gas measurements as well as temperature and pressure measurements related to the gas, are now available and can be utilized in the control process. The operators and the maintenance team can view the process and all of the system components from their office or any other system workstation. Diagnostics and alerts are displayed in reel time along with recommended action, improving the efficiency of the staff and reducing down time.

About Emerson Process Management
Emerson Process Management (www.emersonprocess.com), an Emerson business, is a leader in helping businesses automate their production, processing and distribution in the chemical, oil and gas, refining, pulp and paper, power, food and beverage, pharmaceutical and other industries. A division of Emerson, Rosemount Analytical (emersonprocess.com/proanalytic) includes a gas division in Orrville, Ohio, that is a leading supplier of on-line gas analyzers and systems for process, environmental and laboratory analysis applications. The best-in-class technology and expertise of Rosemount Analytical play a key role in Emerson's combining of superior products and technology with industry-specific engineering, consulting, project management and maintenance services. Emerson brands include: PlantWeb®; Fisher®; Micro Motion®; Rosemount®; DeltaV(TM); Ovation®; and AMS.

About Emerson
St. Louis-based Emerson (www.gotoemerson.com) is a global leader in bringing technology and engineering together to provide innovative solutions to customers in electronics and telecommunications; process control; industrial automation; heating, ventilating and air conditioning; and appliance and tools. Sales in fiscal 2002 were $13.8 billion.

PlantWeb, Fisher, Micro Motion, Rosemount, Delta and Ovation are marks of one of the Emerson Process Management family of companies. All other marks are the property of their respective holders.

Related