CNC Vision Measuring Systems offer non-contact measurement.
Press Release Summary: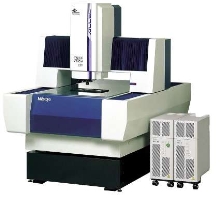 Suited for large workpieces, Quick Vision® Accel® Systems feature coaxial lighting and programmable ring lights with choice of halogen ring-fiber or white or RGB LED illumination. X- and Y-axes are driven at up to 400 mm/sec, while programmable power turret tube lens provides automatic zooming for wide field of view. QVPAK® software offers 3-D data processing functions, support of touch-probe measurement with video/TP calibration, and illumination tools.
---
Original Press Release:

High-Speed/Large Stage Mitutoyo Quick Vision® Accel® CNC Vision Measuring Systems Offer Productivity Improvement


(Aurora, IL) New Quick Vision® Accel® CNC vision measuring systems from Mitutoyo America Corporation deliver high-speed operation and large stages that significantly increase throughput for non-contact measurement of items such as IC chips, IC packages, hybrid chassis, lead frames and many types of large, precision machined and molded parts.

Designed for speed and large workpieces, Mitutoyo Quick Vision Accel machines employ an extremely rigid chassis that ensure accuracy while the X- and Y-axes are driven at up to 400mm/sec. - more than twice the speed of conventional machines.
Powered by Mitutoyo QVPAK® software, the Quick Vision Accel platform offers a wide range of choice in accuracy levels, optical/oblique illumination systems and measuring ranges, and includes provisions to retrofit touch probing for 3-D measuring work.

The Quick Vision Accel systems offer coaxial lighting, programmable ring lights with choices of halogen ring-fiber or white or RGB LED illumination. Quick Vision Accel instruments can be equipped with a laser auto-focus system using the objective-lens coaxial reflected illumination method that enables even a small area of the workpiece to be brought into focus during high-speed movement. Additionally, a visible-light laser beam allows for easy visual confirmation of the measuring point. A pattern focusing function provides a focused edge, even on mirror finishes.

Also, the programmable power turret tube lens (or available programmable power zoom lens) provides automatic zooming for a wider field of view at high levels of image detail.

QVPAK software features include a refined GUI, extended 3-D data processing functions, complete support of touch-probe measurement with video/TP calibration, and illumination tools.

QVPAK displays measurement results in 2D/3D graphics for easy
interpretation. Single mouse-click edge-detection, abnormal data elimination, noise filters, datum fit, the SmartEditor® part program, plus a variety of additional editing and control tools are standard.

SPECIFICATIONS
Measurement range
(X x Y x Z)
404 size model: 400x400x150mm (16" x 16" x 6")
606 size model: 600x650x150mm (24" x 26" x 6")
808 size model: 800x800x150mm (32" x 32" x 6")
1212 size model: 1250x1250x90mm (49" x 49" x 3.5")
1515 size model: 1500x1500x90mm (59" x 59" x 3.5")

Measuring accuracy(at 20°C)
Quick Vision Accel:
U1XY = (2.2+3L/1000) µm/(3.5+5L/1000) µm*
U1Z = (4+5L/1000) µm**
SUPER Quick Vision Accel:
U1XY = (1.5+3L/1000) µm/(2.5+4L/1000) µm*
U2XY = (2.5+4L/1000) µm**
U1Z = (3+4L/1000) µm**
* 1212 and 1515 size models
** when using the CCD camera.

Repeatability
Quick Vision Accel:
3σ = 0.2µm*/0.7µm** (X/Y-axis)
σ = 0.4µm (Z-axis)***
Super Quick Vision Accel:
3σ = 0.2µm*/0.5µm** (X/Y-axis)
σ = 0.4µm (Z-axis)***
*on-screen repeatability (short distance).
**Repeatability involving X-Y movement (long distance).
*** with Laser Auto Focus

Maximum drive speed
Quick Vision Accel:
400mm/s (X/Y-axis)
150mm/s (Z axis)
SUPER Quick Vision Accel:
200mm/s (X/Y-axis)
150mm/s (Z-axis)

Illumination system
Surface illumination
Coaxial and 4-quadrant PRL system
PRO: RGB LED
PRO III: Halogen
Contour Illumination
Stage light
PRO: White LED
PRO III: Halogen

Maximum workpiece load
Height: 150mm/90mm* (5.90"/3.54"*)
Weight: 10kg/30kg* (22 lbs./66 lbs.*)
*1212 and 1515 size models

Resolution
0.1µm

Length standard
Reflective linear encoder

Sensor unit
PRO: High-resolution black & white CCD camera
PRO III: High-resolution color CCD camera

Mitutoyo America Corporation's nationwide network of Metrology Centers and support operations provide application, calibration, service, repair and educational programs for industry. This ensures that our 6,000+ metrology products will deliver measurement solutions for our customers throughout their lifetime. Contact Mitutoyo America Corporation, 965 Corporate Boulevard, Aurora, IL 60504. Phone: (630) 978-5385 Fax: (630) 820-7403 E-mail: info@mitutoyo.com Or visit our website at www.mitutoyo.com

More from Services