CNC Vision Measuring Systems inspect flat panel displays.
Press Release Summary: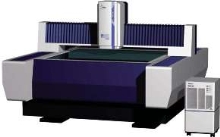 Quick Vision Accel® 1212/1517/2021 Series features laser focusing to support large variations in height of items measured. Illumination systems include programmable ring lights with choice of halogen ring-fiber or white or RGB LED. QVPAK software includes 3-D data processing and support of touch-probe measurement with video/TP calibration. Systems can be integrated into automated assembly procedures for inspection of plasma and LCD display, photo masks, and screen masks.
---
Original Press Release:

Mitutoyo® Quick Vision Accel® Measuring Systems Sized Larger, for Flat Panel Display Inspection


(Aurora, IL) Mitutoyo America Corporation announces availability of new Quick Vision Accel® 1212/1517/2021 Series CNC vision measuring systems designed for high-speed, non-contacting measurement of flat panel displays and similarly sized items (QV ACCEL 2021 measuring range up to X: 2000mm, Y: 2100mm, Z: 100mm).

The Mitutoyo Quick Vision Accel 1212/1517/2021 Series systems are compatible with inline transfer/positioning devices and are readily integrated into automated assembly procedures for inspection of plasma and LCD displays, photo masks, screen masks and the like.

Quick Vision Accel 1212/1517/2021 Series instruments feature laser focusing to support large variations in the height of items measured while a choice of B&W or color CCD cameras is available to match the application. The new instruments also include provisions to integrate touch probing for 3-D measuring work.

Quick Vision Accel 1212/1517/2021 machines run Mitutoyo QVPAK® software offering a wide choice of accuracy levels, optical/oblique illumination systems and measuring ranges. Illumination systems include programmable ring lights with choices of halogen ring-fiber or white or RGB LED.
QVPAK software features include a sophisticated GUI, extended 3-D data processing functions and complete support of touch-probe measurement with video/TP calibration.

Optional software modules extend QVPAK functionality. A partial list of examples includes: QVPartManager® which allows for measurement of multiple parts - even for multiple, different parts - staged at one time, QVEio® which provides external machine control via an RS-232C interfaced PC, and
MeasureReport/E®, a Microsoft® Excel®-based routine for automatic report generation and printout.

Mitutoyo America Corporation's nationwide network of Metrology Centers and support operations provide application, calibration, service, repair and educational programs for industry. This ensures that our 6,000+ metrology products will deliver measurement solutions for our customers throughout their lifetime. Contact Mitutoyo America Corporation, 965 Corporate Boulevard, Aurora, IL 60504. Phone: (630) 978-5385 Fax: (630) 820-7403 E-mail: info@mitutoyo.com Or visit our website at www.mitutoyo.com

More from Services