CNC Video Measuring Systems utilize precise edge detection.
Press Release Summary: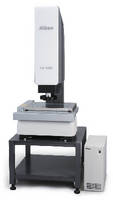 Utilizing optical measuring technology and image processing, NEXIV VMZ-R3020 and VMZ-R6555 automatically capture dimensions and shapes of components. NEXIV VMZ-R3020 is suitable for inspection of small components used for mechanical/electric applications, while NEXIV VMZ-R6555, featuring 65 x 55 cm measuring platform, targets larger PCBs or mechanical parts. Third ring illumination angle offers advanced edge detection, and TTL laser auto focus strengthens ability to measure transparent components.
---
Original Press Release:

Nikon Metrology Introduces New Video Measuring Systems



Nikon Metrology announces the introduction of the NEXIV VMZ-R3020 and VMZ-R6555 video measuring systems, which join the VMZ-R4540 model released in February 2013. The next-generation systems are capable of fast and accurate measurement of the dimensions and shapes of mechanical parts and high density, multi-layered electronic components.



Utilising optical measuring technology and image processing, the CNC video measuring systems automatically capture the dimensions and shapes of components using precise edge detection. The NEXIV VMZ-R3020 meets the demand for shorter stage strokes, smaller dimensions and lighter body weight. NEXIV VMZ-R3020 is suitable for inspection of small components used for various mechanical and electric applications. The NEXIV VMZ-R6555, featuring a large 65 x 55 cm measuring platform, aims at fast measurement of larger printed circuit boards or mechanical parts. It is also suited to automatic measurement of many smaller parts on the large stage, helping to reduce the cost of parts inspection.



Highly accurate and fast measurements

A higher level of accurate measurement is achieved by Nikon's in-house developed linear encoder. In addition, improvements to the image transfer technology and changes to the illumination source have shortened overall measuring time.



Measurement flexibility

A third ring illumination angle features advanced edge detection, while enhancements to the TTL (through the lens) laser auto focus have strengthened the system's ability to measure transparent components. Furthermore, the CCD camera's high-resolution image option enables a broader range for video measurement.



Advanced operability

Work efficiency has been improved by reducing the number of steps needed to create teaching files. Developed for easier understanding and better comprehension, the newly added 'Guide Panel' function has improved the main program. There is no change to the highly rated functions, such as the 'Customizable Screen' and 'Online Software.'



ABOUT NIKON METROLOGY

Nikon Metrology offers the broadest range of metrology solutions for applications ranging from miniature electronics to the largest aircrafts. Nikon Metrology's innovative measuring and precision instruments contribute to a high performance design-through-manufacturing process that allows manufacturers to deliver premium quality products in a shorter time. Further information is available on www.nikonmetrology.com



For further information please contact:

Renaat Van Cauter

Director Marketing Communications

Nikon Metrology NV, Geldenaaksebaan 329, B3001 Leuven, Belgium

renaat.vancauter@nikonmetrology.com

Tel +32 16 74 01 00

More from Services