CNC Unit provides integrated, open-architecture solution.
Press Release Summary: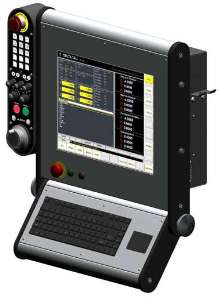 Advantage 410 CNC combined operator console and matched 4- or 6-axis integrated amplifier/controller is suited for machine tool OEMs and retrofit applications. Modular unit includes 15 in. touchscreen and customizable operator controls. Equipped with mobile operator control pendant, product supports dynamic multi-block segmented look-ahead, forward and inverse kinematics, 5th axis programming capability, and lead screw and backlash compensation.
---
Original Press Release:

Delta Tau Introduces: Advantage 410 CNC Control


New Integrated Operator Console/Amplifier is an Easy to Setup, Cost Effective, Open Architecture Solution for Machine Tool OEMs and Retrofit Applications

CHATSWORTH, CA - August 20, 2004- Delta Tau Data Systems Inc., the technology leader in open architecture CNC controls, today announced the Advantage 410, the newest member of its CNC control family. The 410 CNC combined operator console and matched 4 or 6-axis integrated amplifier/controller is specifically designed to meet next generation CNC control requirements.

"We designed the 410 to leverage the capabilities of the PC in the operator control console to bring end users an unprecedented list of peripheral and networking features, usually costing a premium, in an extremely cost-effective package," said Vince Burokas, Product Manager for CNC at Delta Tau Data Systems, Inc. "The digital amplifier and control were integrated into one unit to minimize setup time. This design embraces a modular philosophy allowing an infinite number of machine configurations. The 410 provides OEM's and end users with a long list of features, performance and value."

The feature rich 410 CNC includes a 15-inch touch screen and customizable operator controls for an easy-to-integrate and cost-effective open architecture solution for OEM and retrofit CNC applications. The Advantage 410 CNC supports high-speed machining, dynamic multi-block segmented look-ahead for path fidelity at any speed, forward and inverse kinematics for non-traditional mechanical configurations, 5th axis programming capability, and lead screw and backlash compensation.

The 410 CNC features a mobile operator control pendant with user-definable function keys, an embedded industrial PC, the new user configurable 5.0 HMI NC software, and the NC Autopilot quick setup tool, all in a slim line design with 4 or 6-axis Geo PMAC motion and servo amplifier. Integration and connectivity between the operator console and the smart servo amplifier is simplified by utilizing a single USB2.0 interface cable. With the 410 CNC, the user adds appropriate motors and a minimum amount of field wiring to complete a CNC control system. The user can choose the motors best suited for the application.

The CNC Autopilot setup utility simplifies the machine tool integration process by automatically creating the PLCs for a particular machine. The motors are tuned automatically using the Autotune software feature. The GUI has been designed using the PMAC HMI program. This allows the user to easily customize the GUI interface for their specific application. The PMAC NC 5.0, for Windows software provides interactive part programming or execution of standard G-Code programs.

For more information visit www.deltatau.com.

About Delta Tau Data Systems

Delta Tau Data Systems is the technology leader in high-performance machine control products. By developing and manufacturing a full range of digital signal processor-based motion control products and accessories, Delta Tau delivers motion control solutions that solve from the simplest to the most complex positioning applications. Products are marketed through a worldwide distribution network and application engineers are located globally to provide timely customer support.

Delta Tau Data Systems, 21314 Lassen Street, Chatsworth, CA 91311, PH: (818) 998-2095, FX: (818) 998-7807, e-mail: sales@deltatau.com

More from Materials