CNC Sharpener offers operational flexibility.
Press Release Summary: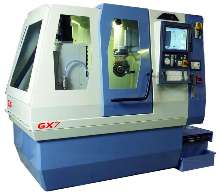 Model GX7 entry-level CNC tool and cutter grinder handles single tool jobs as well as batches of tools with different types and geometries. Able to grind variety of tools in one set-up, product has polymer concrete base, direct-driven linear and rotary axes, and 5DX CNC. Direct driven A-axis can also be used as spindle and run at 600 rpm, and each wheel pack has its own dedicated programmable coolant outlet. All axis saddles are made from single-piece casting.
---
Original Press Release:

GX7 - CNC Sharpener with Flexibility and Choice


Melbourne - ANCA has announced the launch of GX7, a new CNC sharpener. GX7 CNC Tool and Cutter Grinders is an entry level sharpening machine with flexibility and speed. It is equally productive on single tool jobs as well as on a batch of tools of different type and geometry.

The features and benefits

GX7 is suitable for grinding a wide variety of tools in one set-up. Drills, step drills, end mills, burrs, profile tools, routers as well as special tools can be efficiently sharpened using suite of ANCA ToolRoom® software applications. All axis saddles are made from a single piece casting resulting in extreme rigidity. The grinding spindle is also mounted on a single piece casting which ensures machine overall robustness. The mechanical concept of axes configuration ensures that the machine is compact, yet providing sufficient work envelope.

Some features and benefits are:

· Polymer concrete base for better robustness.

· All linear and rotary axes are direct driven, which increases reliability and reduces vibrations.

· ANCA new 5DX CNC and new generation of digital servo drives mean:

- Better surface finish

- High grinding speeds without compromising accuracy.

- Touch Screen

- Integrated modem for remote diagnostics

- Uninterrupted Power Supply

- USB port on the front panel for additional equipment

- Windows XP Operating System

· Direct driven A-axis can be used as a spindle and run at 600RPM which provides possibilities for cylindrical grinding.

· Each wheel pack has its own dedicated programmable coolant outlet. Removable coolant manifolds are used on each wheel pack for quick and easy change over. Additional programmable coolant outlets are located on the headstock.

· Optional automatic pop-up steady, manual tailstock and a range of tool clamping solutions to suit variety of applications.

· Optional ANCA semi-automatic Tool Measurement System, iView, can be quickly setup inside the machine and provide key outer envelope tool measurement data. The tool is measured in the same clamping as ground and measured data can be fed back into the grinding cycle for automatic compensation.

· Bi-directional interface to Zoller Genius III auomatic tool gauge.

To enhance the GX7's capabilities, it can be equipped with a 52 tools drum loader to ensure many hours of unmanned production. The loader utilises Nikken KM collets allowing a variety of tool shank sizes and in conjunction with the ANCA Ordermate software allows mixing of different tool geometries in one batch.

About ANCA

ANCA was founded in 1974 to design and manufacture high technology Computer Numerical Controls (CNCs) for the machine tool and metal-based industries. Today, ANCA has become a leading designer and manufacturer of complete, precision CNC tool and cutter grinding machines in a global niche market.

With its core values of precision, innovation, quality and technological excellence, ANCA is today an international organisation of more than 300 employees with a robust set of technological and entrepreneurial skills. Offices are located in major cities in Europe, North America and Asia; with dealerships represented in over 25 countries. ANCA continues to understand market demands and produce products and services to benefit its customers.

For more information, contact:

Jan Langfelder
International Marketing Manager
Email: janl@anca.com.au

More from Non-Industrial Products