CNC Router facilitates fence picket processing.
Press Release Summary: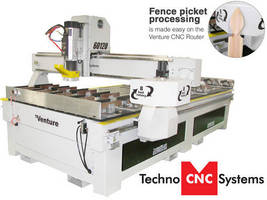 Offering production method that promotes productivity, 5 x 10 Venture Series features extended table surface that allows 6 ft pickets or posts to be stacked into self-centering customer clamp fixture. Production work cell also keeps track of number of routed parts so that production reports can be obtained by management for cost calculation and production planning. Operation streamlines loading and clamping of blanks, cutting, and unloading of completed pickets.
---
Original Press Release:

Fence Picket Processing is Made Easy on a CNC Router



CNC Routing is not always flat sheet material processing



Techno is proud to announce the completion of its 5 x10 Venture Series production work cell for the processing of fence pickets. This machine features a special extended table surface so that six foot pickets or posts can be stacked into a self-centering customer clamp fixture. The operator loads two blanks into one clamp cell and then repeats for the additional front clamp portion of the machine. The operator repeats for the rear and the cutting production cycle begins. As the front pieces are routed and completed, the operator then goes into motion unloading the completed pickets in the front section of the machine clamps and reloads a set of new blanks. The operator then shifts to the rear of the machine repeating the process there. Upon unloading and loading new blanks into the rear section of the machine the front is now ready for its new material. This production method ensures the employee is very productive. In addition, the machine keeps track of the number of routed parts so that production reports can be obtained by management so they can calculate costs and plan production.



This is one example of how Techno CNC Systems long term market presence and experience can help shops expand and streamline their production needs. "There are endless production applications. We take great pride in solving our customer's production problems. This is only one example of the lengths we take to service and support our customers. We are immensely gratified in their success and enjoy helping them become more profitable and easing the stress and inconsistencies of lagging production schedules," says Roy Valentine, President of Techno CNC Systems, LLC.



See the Venture CNC Router online at www.technocnc.com/cnc-router-systems/venture.htm and get the brochure at www.technocnc.com/Venture-CNC.pdf. Please contact Techno's sales application engineers today at (516) 328-3970 to learn more about how this machine can benefit your business and product quality or visit www.technocnc.com.

More from Fasteners & Hardware