CNC Machining System power cuts aluminum plates.
Press Release Summary: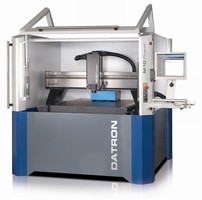 With set-up area of 1,910 x 1,950 x 2,065 mm, 3-axis M10 features work area of 700 x 1,000 x 240 mm. Portal machine has working table made of granite and spindle with HSK-E 25 interface turns at speeds up to 40,000 rpm. Consuming 4 kW under 80% load, it includes X/Y/Z probe, via which zero and reference points are automatically set up, and PC-based machine control with RAM, Ethernet, and USB interfaces.
---
Original Press Release:

Plate Cutting According to the Efficiency Dictate



He who still wants to earn good money machining aluminium plates, can't get by without the new M10. The three-axes milling system offers high-performance cutting with small tools, high spindle speeds and minimum current consumption. The work area measures 700 mm x 1,000 mm x 240 mm. With this, the user is equipped for the majority of work he has to do.

The three-axes M10 CNC machining system is specially designed for the power cutting of aluminium plates. The work area of 700 mm x 1,000 mm x 240 mm along the X-, Y- and Z-axes is equally spacious. Nevertheless, the set-up area of the M10 is only 1,910 mm x 1,950 mm x 2,065 mm (W x H x D).

All components of the portal machine are well thought-out from a mechanical engineering perspective and are optimally tuned to each other, as well as to the target material, aluminium. The working table, made of massive granite, ensures that the work spindle traverses with low vibrations, even at high accelerations and that vibrations which inevitably occur during cutting are reduced to a minimum. The spindle with the HSK-E 25 interface turns at speeds up to 40,000 rpm. This allows for high chip volumes at low cutting forces.

A new kind of vacuum clamping technology developed by the manufacturer ensures both high holding forces as well as extremely short set-up times. It is furnished in the standard version of the M10.

Also integrated in the standard version is an X/Y/Z probe, via which the zero and reference points are automatically set up. The machine control (PC-based) has a large RAM, Ethernet and USB interfaces and processes even large volumes of data quickly.

The M10 also has special market status from an ecological point of view. Thanks to the high efficiency of the electric components, the machine only consumes 4 kW under an 80 % load. The minimum volume cooling lubrication system works residue-free, so that there are no cleaning or disposal costs.

The M10 design also satisfies the efficiency dictate. The new door system is easy to operate and offers good accessibility. For chip disposal, either a special chip trolley with an ergonomic tilting mechanism or a conveyor system can be used.

DATRON company background
DATRON-Electronic GmbH, with headquarters in Muhltal near Frankfurt/Main, Germany, offers innovative products and solutions for industrial production and automation, such as multiple axes CNC machining systems for milling, engraving and drilling with speeds up to 60,000 min1, solid carbide precision tools for high speed machining of work-pieces made of graphite, metal, plastic and fibre composites, and dispensing machines for precise and quick bonding and sealing in serial production.

Our company is represented by agencies in almost all significant industrial countries and has subsidiaries in Great Britain, Slovakia and the USA. In 2007 DATRON was once again included in the list of the 100* most innovative small and medium-sized enterprises in Germany.

*) "Top 100" is an annual ranking of innovative small and medium-sized enterprises in Germany. The enterprises are selected by independent experts from the Vienna University of Economics and Business Administration (Wirtschaftsuniversitat Wien).
Further Information:

DATRON-Electronic GmbH
In den Gansackern 5
D 64367 Muhltal

Tel. +49 (0)6151 1419-0
Fax +49 (0)6151 1419-29

info@datron.de
www.datron.de

Also under ecological aspects an exception: Thanks to the high efficiency of the electric components, the machine only consumes 4 kW under an 80 % load. The minimum volume cooling lubrication system

More from Material Processing