CNC Machines cut EPS, XPS, and EPP foam blocks.
Press Release Summary: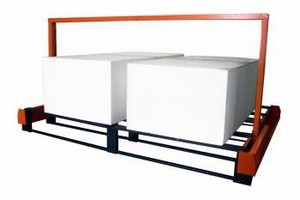 Designed for continuous operations, FCH Series includes 4 x 4 x 8 and 8 x 4 x 8 CNC 4-axis machines supplied with computer, flat screen monitor, and software pre-installed. Accuracy is 0.01 in. with 200 ft cutting wire and 26-30 ipm cutting speed. Capable of tapered cuts, machines are provided with over 200 shapes ready-to-cut in PDF format.
---
Original Press Release:

Foamlinx LLC Introduces CNC Hotwire Foam Cutters New Line Under $14,000



Foamlinx LLC, a Silicon Valley based company, is selling hot wire CNC foam cutters for under $14,000. The new line, called FCH, is 4x4x8 and 8x4x8 CNC 4 Axis heavy-duty machines designed for continuous operations. The machines cut EPS, XPS and EPP foam blocks.

The FCH line is unique in its low price range along with a very fast setup and assembly. Typical setup and assembly is under 1 hour from the time the crate is opened.

The new line comes in two sizes: 4x4x8 and 8x4x8 (X x Y x Wire Length) with immediate availability. The machines are fully CNC 4 axis designed to cut EPS, XPS and EPP foams. Foamlinx supplies them with computer, flat screen monitor and software pre-installed and setup.

All of the FCH machines come with lifetime email and phone support with option for training at the customer's site. Training can also be done from Foamlinx main office in the Silicon Valley California. Foamlinx customer support use a propriety software training and trouble-shooting methods, thus saving costs for the customer. All machines come with 1 year warranty for electronics and computer, 2 years for mechanical parts.

FCH machines are heavy-duty machines designed to work for a 24-hour continuous operations. Its accuracy is 0.01" with 200 feet cutting wire and 26-30"/min cutting speed. It can cut tapered cuts and is provided with over 200 shapes ready to cut in PDF format.

Foamlinx is a US manufacturer and worldwide exporter of hot wire CNC foam cutting machines. The machines are used in Architectural Foam, Precast Concrete, Insulation, Sign Making, Film Set Building, Theme Parks, Sculpture, and Packaging Industries. They are also used for industrial design in the military and aerospace industries.

Foamlinx has sold over 600 machines worldwide.

The company is a family owned and operated business, located in the heart of the Silicon Valley, California. We have been designing electro-mechanical systems for the past 25 years for the medical and the printing industries. We have in-house expertise in Hardware, software, mechanics and motion control. FoamLinx has developed a range of cutting systems, as well as foam recycling equipment, laser cutters, and custom-made machines.

For additional information about Foamlinx new FCH line, please call Tal Barnea at (408) 454-6163 or email info@foamlinx.com