CNC Machine provides centerless grinding of small parts.
Press Release Summary: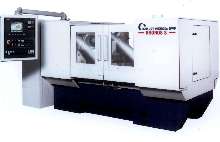 Kronos S permits straight plunge grinding and 15° angle plunge grinding of shaft-type parts. It handles workpiece diameters from 0.5-30 mm and lengths up to 120 mm. Cross slides on grinding and regulating wheel side come with digital drives and precision ball screw drive. Double-end supported grinding wheel spindle permits surface speeds up to 120 m/sec with CBN, and double-end supported regulating wheel spindle delivers up to 1,000 rpm.
---
Original Press Release:

Kronos S: Highly Precise Centerless Grinding - with a Twist


MIAMISBURG, OH - United Grinding Technologies, Inc. (UGT) believes the Schaudt Mikrosa BWF Kronos S CNC is the ideal candidate for centerless grinding of small shaft-type parts-workpieces with a common center which becomes the basis for preceding and/or following process operations-such as small
crankshafts, camshafts, gear shafts, compressor shafts and rotor shafts for electric motors.

The Kronos S offers an innovative design feature which permits the combination of two processes-straight plunge grinding as well as 15°-angle plunge grinding-by simply changing out the grinding spindle unit. This broadens the range of applications, significantly increasing flexibility and permits short-run, mixed lot production, common to many smaller shops, as well as high-throughput production operations.

Overview
Workpiece diameters for the Kronos S range from 0.5 mm to 30 mm. Workpiece lengths are up to 120 mm. Grinding wheel size is 400 mm x 125 mm x 203.2 mm. Regulating wheel size is 250 mm x 125 mm x 127 mm.

The cross slides on the grinding wheel and regulating wheel side come with highly dynamic digital drives and a precision ball screw drive. This means that the four-axis Kronos S delivers the same flexibility and functionality as an eight-axis CNC machine. High-performance grinding spindles with maintenance-free hybrid roller bearings in combination with CBN technology enable the Kronos S to achieve circumferential speeds of 120 m/sec (63 m/sec with conventional grinding wheels).

The dressing system for the grinding and regulating wheels is positioned centrally above the four CNC axes at workpiece level, and the Kronos S offers a choice of diamond, plate, diamond forming roll or diamond profiling roll options for grinding wheel dressing.

One of the Kronos family
The Kronos S is small end of the Kronos Series of centerless external cylindrical grinding machines and incorporates the latest in grinding technology. It is specifically aimed at increasing flexibility, delivering highly precise grinding results and dramatically reducing non-productive processing time.

The modular machine concept, which provides application-specific machine configuration flexibility, features a rigid Granitan machine base, which guarantees superior vibration dampening and thermal stability. A double-end supported grinding wheel spindle permits surface speeds up to 120 m/sec with CBN, and a double-end supported regulating wheel spindle delivers up to 1,000 rpm for shorter dressing times. Double-end spindle support provides rigidity and precision grinding repeatability.

A fixed location grinding gap allows for fast cycle times and simple workpiece handling, since no additional compensation axis is required. Semi-automatic, fast grinding wheel change reduces setup time and facilitates small-batch manufacturing. Further reducing setup time is the elimination of mechanical setting of a ' and B1 resulting in up to 85 percent savings in the generation of the hyperbolic profile on the regulating wheel and up to 75 percent in cylindrical correction of the workpiece.

The Kronos S features state-of-the-art Siemens digital control and axis drive components. Machine operation, setup, changeover, dressing and programming of even complex parts are easily accomplished through the innovative step-by-step Mikrosa Symbol Screen Technology. The Siemens Sinumerik 840D control package features application-specific software routines, Windows(TM) user-interface, integrated on-line help menus and extensive fault/error diagnostics. Remote diagnostics, process control and trouble-shooting via standard telephone line and machine modem link are easily facilitated.

The Kronos S is supported by an expert team of grinding specialists drawing on more than 14,000 centerless grinding machine installations and support and service centers in more than 50 countries.

United Grinding Technologies, Inc., the North American arm of the Korber-Schleifring Group and supplier of such venerable nameplates as Blohm, Jung, Magerle, Schaudt Mikrosa BWF and Studer, is a global leader in grinding technology and has built a reputation for industry-leading innovation and unparalleled service and support.

For more information, contact United Grinding Technologies, Inc.; 510 Earl Blvd., Miamisburg, OH, 45342. Tel: 937/847-1222. Fax: 937/859-1115. www.grinding.com.

More from Electrical Equipment & Systems