CNC Lathe turns, bores, mills, and taps in one setup.
Press Release Summary: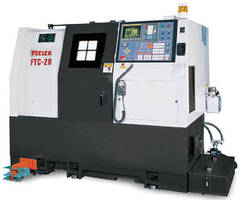 With 343 mm max turning dia and 560 mm max swing, Feeler FTC-20 suits mixed-volume, short-run operations as well as dedicated high-volume applications. It occupies 2.63 x 1.54 m footprint and offers rapid traverse rates of 24 m/min for X and Z axes, while 12-station bi-directional turret offers 0.3 sec tool indexing time. Other features include 18.5 kW Fanuc spindle motor with variable-speed drive; 4,500 rpm A2-6 spindle nose with 51 mm through hole; and Fanuc 0i-TC control panel.
---
Original Press Release:

FEELER FTC-20 Offers Flexibility, Power & Savings



Cincinnati, OH - GBI Cincinnati, an industry leader in supplying machine tool technology, has built a reputation on providing customer-driven solutions to a broad array of precision turned-part challenges. Feeler FTC-20 CNC lathes are yet another step in providing these solutions ever more flexibly and are ideal for mixed volume, short run operations as well as dedicated high-volume applications.

With a maximum turning diameter of 343 mm and a maximum swing of 560 mm, the FTC-20 combines high performance turning and large machining capacity within a compact 2.63 m x 1.54 m space-saving footprint. Rapid traverse rates of 24 m/min (X- and Z-axis) mean accelerated machine cycle times and reduced non-cut time, which increases overall throughput. An automatic 12-station bi-directional slotted disc-type turret offers a fast 0.3 sec tool indexing time (1.2 sec 180° index optional) for use with L.H or R.H. OD toolholders.

A high-torque 18.5 kW Fanuc spindle motor with a variable speed drive permits full horsepower at low spindle speeds. The A2-6 spindle nose has a through hole of 51 mm and a speed range up to 4,500 RPM. The specially designed headstock eliminates heat from the spindle bearings, prolonging the life of bearings and ensuring spindle reliability.

To assure the rigidity required for heavy-duty cutting, the spindle is supported by angular contact ball bearings at the nose and a double-row of cylindrical roller bearings at the rear. The spindle cartridge is lubricated for life, and the special designed headstock eliminates the need for oil recirculation or systems to maintain spindle temperature, thus offering years of reliable performance with reduced operating and maintenance costs.

A rigid hydraulic tailstock has a quill diameter of 65 mm, a stroke of 90 mm, an MT4 center taper and a thrust of 400 kgf.

An automated lubrication system, a complete coolant system and splashguards with overlapping doors are standard.

The Fanuc 0i-TC features the latest technological advancements in a uniquely small space. The control panel includes an 8.4" color LCD and full keyboard conveniently positioned on a swivel for ease of operation. Fanuc CNCs and associated spindle and servo drives have an exceptional reputation for reliability. For example, according to Fanuc, sub-system failures per month are nearly unheard of - 0.00495 on the CNC, 0.00099 on the servo drive and 0.00376 on the spindle drive.

Feeler software in the 0i-TC is ideal for operators with varying levels of CNC experience, as it simplifies the transition from manual programming to G code programming. As the operator's skill level rises and/or part geometry complexity increases, the operator can easily move through various levels of part programming generation. The 0i-TC can be programmed offline or online, allowing the use of standard G code features available from Fanuc.

GBI Cincinnati is the exclusive United States distributor for Fair Friend Group's Feeler line of machine tools. Fair Friend Group is the number one producer of CNC machine tools in Taiwan and China and one of the largest in the world, producing over 6,000 units per year.

Fair Friend Group's Feeler division is committed to continual advancements in machine tool technology. Research and development make up one-third of the total workforce, with 4% of Feeler's annual revenue reinvested in R&D.

Utilizing only leading edge technology, each Feeler machine is designed and analyzed using advanced Finite Element Analysis (FEA) for dynamic simulation and structural analysis. All Feeler machines are laser calibrated and inspected to JIS (Japanese Industrial Standards) to ensure the final product is of the absolute finest quality.

Feeler is committed to providing the best quality machines at the lowest possible cost. Its significant purchasing power combined with advanced, integrated manufacturing facilities enable Feeler to build machines and assemblies at lower costs and drive "global competitiveness". Master distributor GBI in Cincinnati, Ohio provides an unparalleled degree of training, service and support for all Feeler machine tool products in the USA.

For more information, contact GBI Cincinnati, Inc, 6899 Steger Drive, Cincinnati, OH 45237. Tel: 513/841-8684. Fax: 513/841-7381. Web: www.gbicincinnati.com. E-mail: info@gbicincinnati.com

The FTC-20 Series of turning centers offers turning, boring, milling and tapping - all in one setup. The FTC-20 Series is designed to fit the needs of mid- and high-volume production, offering flexibility with consistent accuracy from the first to the last part.

Related