CNC Hot Wire Foam Cutters are designed for sign industry.
Press Release Summary: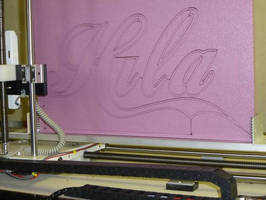 Operated by computer and cutting software (numerically controlled), Foamlinx Sign Cutters are able to cut EPS, XPS, and EPP foam types for production of 3D, monument, and architectural signs; logos; numbers/letters; and displays. Assembly time is less than 1 hr, and cutting speed is 30 ipm. Able to cut multiple signs simultaneously, machines come in 4 sizes from 3 x 2 x 1 ft to 8 x 4 x 3 ft with hot wire power supply, stepper motors, hot wire, computer, and cutting software.
---
Original Press Release:

Foamlinx Providing Affordable Cutting Solution to the Sign Industry



In the market today, there are no specialized machines for the sign industry, which have to settle for generalized high-cost foam cutters. Foamlinx LLC, based in California has developed CNC Hot Wire Foam Cutters especially for the sign industry. They are operated by a computer and cutting software (numerically controlled). The machine can cut EPS, XPS and EPP types of foam, being able to produce 3D interior and exterior signs, logos, monument signs, foam numbers and letters, theme props, displays and architectural signs, and much more. Foamlinx Sign Cutters are designed in 4 sizes, to fit every sign manufacturer needs: From 3' x 2' x 1' for the smallest machine up to 8' x 4' x 3' for the largest machine, and will be sold for $5000-10,000 accordingly, half of the current market price for similar machine. In addition, Foamlinx supply full software support for the sign foam cutters.

Most Sign manufacturers nowadays are producing signs either by cutting the sign manually or by outsourcing the project. However, manual cutters, such as hot knives, arch cutters, sculpture tools, or manual routers are usually slow, noisy, exhausting and make a lot of dust. Also, using an outside source can be expensive and not very time efficient, sometimes requires additional work, such as sanding, coating, painting. On top of that, most hot wire CNC foam cutters available in the market today sell for $25,000-35,000 for one machine alone. Those are usually big and expensive machines and do not provide a low cost solution.

Foamlinx new Sign Cutters will be sold with mechanical and electronic parts, hot wire power supply, stepper motors, hot wire, computer and cutting software. Foamlinx Sign Cutters will be very user friendly, not the complicated hard to understand type of machines, with assembly time of less than an hour. They will have a cutting speed of 30" per minute, thus able to cut multiple signs at the same time. These new capabilities will save the sign companies time and costs and will free some men power that was previously busy with manual cutting, or waiting for the outsourced company to be able to provide the cuts on time. The lead time for providing the projects will shorten significantly, enabling the companies to produce multiple projects at the same time, thus enhancing the profits.

In addition to the new line of sign cutters, WeCutFoam, our subsidiary company is now also offering a special affordable Polyurea coating, making any foam project resembles plastics. The polyurea is hard and fast drying and an extremely durable coating, making any sign or project resistant for break damages or weather corrosions. Shipping the signs from one place to another will be much safer, as the polyurea coating will prevent it from breakage. This coating is completely safe and the coated project can be painted with any water or oil-based paint. Using our coating services will not just make any project breakage resistant, but will also save costs, as buying a coating machine can be very pricy.

Foamlinx LLC (http://www.foamlinx.com), based in Sunnyvale, California, was founded in 2001. The company designs, manufactures and sells CNC hot wire foam cutting machines, laser cutters, router systems, and foam recycling equipment. Through its subsidiary company, WeCutFoam (http://www.wecutfoam.com), the company is also providing foam cutting services to vast variety of industries, including architecture, building and construction, signs, logos, packaging, props, theme parks, prototypes, aerospace, aeronautics, boats and canoes, UAVs, RC, hobbies and many more.

More from Electrical Equipment & Systems