CNC Grinding Machine provides complete tap production.
Press Release Summary: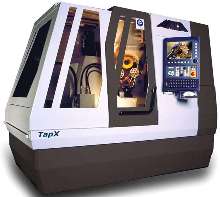 TapX manufactures taps from blank to finished product. All grinding operations, including threading, are performed in one clamping and set-up. Included iTap software compliments machine by allowing flexible tap design and manufacture. With its purpose designed tooling and automation, machine eliminates need for several special-purpose machines. It is offered with pallet loader with 220 tool capacity and robotic loader with 800 tool capacity.
---
Original Press Release:

TapX - Complete Tap Production in One Machine


Melbourne - ANCA's has launched TapX, a unique CNC tap grinding machine that allows highly efficient manufacturing of taps from a blank to a finished product. With TapX, all grinding operations including threading are performed in one clamping and set-up. The TapX machine is complemented by iTap software, which allows flexible tap design and manufacture.

The complete process

TapX with its purpose designed tooling and automation provides high productivity output. The one machine, one setup approach guarantees tangible benefits in both standard and special tap manufacturing and eliminates the need for several special purpose machines.

iTap was designed with the user in mind. Whether it is a basic shape tap or one with very complex geometry, the user interface is easy to follow and understand as it guides you in a logical sequence through the tap configuration process. Changes to tap geometry are simply made by changing the on screen values for whichever feature you desire. Users are able create specialised tap types with the flexibility of iTap user interface. The user interface within the iTap software clearly indicates which feature of the tap geometry you are defining. ANCA software for wheel balancing (iBalance), software suite for flute and wheel shape design (iFlute), wheel dressing, compensating chuck for tap holding and special coolant delivery assembly are standard items for the TapX machine package. Efficient and reliable automation is today a necessity for most operations within a production plant. TapX offers 2 different types of loaders - a pallet loader with a capacity for up to 220 tools and a robotic loader with capacity up to 800 tools

Some of the features and benefits on the TapX machine are:

o TapX uses an Automatic Wheel Changing System which gives access to 2 wheel packs. With up to 3 wheels being mounted on each wheel pack it gives users enough freedom to grind any feature on a tap which is desired.

o The coolant pipes can be changed automatically in unison with each wheel pack, so that optimum coolant delivery for each wheel is guaranteed. Each coolant outlet is individually programmable.

o To enhance the production of the machine the TapX is supplied with a High Speed Coolant Delivery unit. Precise delivery of coolant with the use of suitable wheels facilitates fast removal of material without burning and causing metallurgical damage. Grinding fed rates up to 4 meters/minute are possible.

o Most thread series of tap can be ground including Metric, Unified inch and British Standard. The inherent flexibility of the iTap software allows any thread shape to be ground dependent only on the form of the grinding wheel.

o The mechanical configuration of the TapX guarantees a strong and robust machine suitable for 24x7 production requirement.

o Tap support during grinding is achieved with an Automatic Tailstock. It is integrated into the grinding cycle and can be engaged and retracted automatically.

o Wheels are easily dressed using an in built dresser, capable of speeds up to 3000RPM. Multiple dressing rolls give users the flexibility of either crush form dressing or profile dressing. Dressing can be called in-process or in-cycle.

o MACS (Micro Adjusting Collet System) can be used as an alternative to holding taps between centres. It is capable of achieving and maintaining very high precision work holding eliminating both radial and axial runout. It maintains consistently accurate runout in either manual or automatic tool loading mode of operation.

o Optional ANCA Tool Measurement System, iView, can be quickly setup inside the machine and provide key tool measurement data within seconds. The tool is measured in the same clamping as ground and measured data can be fed back into the grinding cycle for compensation.

About ANCA

ANCA was founded in 1974 to design and manufacture high technology Computer Numerical Controls (CNCs) for the machine tool and metal-based industries. Today, ANCA has become a leading designer and manufacturer of complete, precision CNC tool and cutter grinding machines in a global niche market.

With its core values of precision, innovation, quality and technological excellence, ANCA is today an international organisation of more than 300 employees with a robust set of technological and entrepreneurial skills. Offices are located in major cities in Europe, North America and Asia; with dealerships represented in over 25 countries. ANCA continues to understand market demands and produce products and services to benefit its customers.

For more information, contact:

Jan Langfelder
International Marketing Manager
Email: janl@anca.com.au
Tel: (613) 9751 8211

Mei Yin Cheong
PR & Communications Manager
ANCA Pty Ltd
25 Gatwick Road
Bayswater North
VIC 3153
Australia
Telephone (+61 3) 9751 8267
Facsimile (+61 3) 9720 4412
Mobile 0414 713 445
Email meiyinc@anca.com.au

More from Thermal & Heating Equipment