CNC Grinding Machine optimizes CBN in shaft production.
Press Release Summary: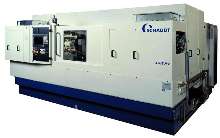 Designed for volume production of round and non-round shaft parts, Zeus M has grinding length to 950 mm, max diameter of 430 mm, and center height of 220 mm. Product handles workpieces up to 80 kg and combines cylindrical, non-round, plunge, and high-speed peel grinding (HSP) in one machine. It employs polymer Granitan machine bed, galvanic-bond and ceramic-bond CBN grinding wheels, and 130 mm rotary diamond dressing.
---
Original Press Release:

Zeus M Optimizes CBN in Precision Shaft Production


MIAMISBURG, OH - United Grinding Technologies, Inc. (UGT) announces the Zeus M, the latest high-performance CNC universal grinding machine for round and non-round shaft parts from Studer Schaudt.

The Zeus M is designed for volume production of camshafts, crankshafts and gear shafts, as well as steering assembly parts, eccentric shafts, axle components, turbo rotors and others. With a grinding length up to 950 mm, a maximum diameter 430 mm, and a center height of 220 mm, the Zeus M handles workpieces weighing up to 80 kg. The Zeus M combines cylindrical, non-round, plunge and high-speed peel grinding (HSP) all in one machine.

A polymer Granitan machine bed provides optimum vibration dampening and thermal stability. The sliding Z-axis with digitally controlled ball screw drive and X-plus Z-axis with hydrostatic guideways offer ultra-precise axes positioning and repeatability for precision shaft grinding. High-frequency motor spindles combined with galvanic-bond and ceramic-bond CBN grinding wheels from 70 mm to 650 mm diameter enable constant circumferential grinding wheel speed of up to 200 m/sec.

The results are short grinding times, long-lasting tool life and optimum grinding performance. The 130 mm rotary diamond dressing form roll is positioned next to the tailstock for easy access, while assuring precise dimensional accuracy between the dressing tool and the grinding wheel.

CBN and compressor shafts
In most cases, gray cast iron compressor crankshafts are ground with corundum tools under optimized processing conditions, a situation that provides very little room for process improvement. However, the use of CBN as a grinding medium opens up new possibilities.

Earlier attempts to introduce CBN failed for a number of reasons - excessive cost, high wear and tear resulting from slow cutting speeds, unsuitable dressing tools and a low degree of machine rigidity.

The Zeus M has been designed and optimized specifically for the use of CBN. Cutting speeds of 200 m/sec, rotating diamond dressing tools and superior machine stability make the Zeus M an ideal CBN machine. And compared to conventional grinding approaches, CBN considerably increases the intervals between dressing and grinding wheel changes.

Clamping chuck
Another problem confronting users of more conventional process solutions is clamping the crankshaft in the eccentric chuck in order to machine the lift pin. The crankshaft is clamped eccentrically into the chuck so that the crank pin can be centered and ground cylindrically. As a certain amount of adjustment is necessary for eccentricity, expensive clamping devices and large chucks are often required.

Special chucking is no longer necessary with the Zeus M. The workpiece is clamped with ease in a central clamping chuck, and the pin is cylindrically ground using a programmed path operation. The eccentricity changeover takes place in the machine control, and manual adjustments are no longer necessary. All of this adds up to higher precision, more flexibility and shorter changeover times.

Features
The Zeus M workhead has a C-axis speed range of 1 to 300 RPM. Spindle torque is 25 Nm. The work center is typically MT 4. Tailstock quill stroke is 150 mm.

Depending on the application task the optimum guideway system can be selected accordingly. This could be the cost-effective linear anti-friction guide-way system for cylindrical grinding, the ball bearing system or the hydrostatic guide-way with hydrostatically threaded spindle for camshaft grinding.

For the two-slide versions the concept of the guide-way systems allows the movement of the two slides right next to each other with only a very small safety gap for the grinding wheel protection covers. As a result, even cams or journals positioned closely to each other can be ground simultaneously.

State-of-the-art Siemens digital control and SIMODRIVE axis drive components are at the heart of the new Zeus M. Machine operation, setup, changeover, dressing and programming of even complex parts are easily accomplished through an innovative step-by-step, on-screen operator interface developed by Studer Schaudt. The Siemens Sinumerik 840D control package features application-specific software routines. WOP (work oriented programming) system permits automatic generation of speed profiles from just a few parameters. Remote diagnostics, process control and trouble-shooting via standard telephone line and machine modem link are easily facilitated.

The Zeus M machines are supported by an expert team of grinding specialists drawing on more than 14,000 grinding machine installations and support and service centers in more than 50 countries.

United Grinding Technologies, Inc., the North American arm of the Korber-Schleifring Group and supplier of such venerable nameplates as Blohm, Ewag, Jung, Magerle, Studer, Studer Schaudt, and Studer Mikrosa, is a global leader in grinding technology and has built a reputation for industry-leading innovation and unparalleled service and support.

For more information, contact United Grinding Technologies, Inc.; 510 Earl Blvd., Miamisburg, OH, 45342. Tel: 937/847-1215. Fax: 937/859-1115. www.grinding.com.

More from Chemicals & Gases