CNC Die-Sinker EDM performs simultaneous 4-axis machining.
Press Release Summary: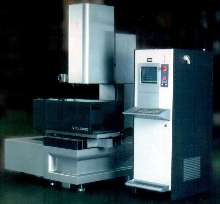 Model DB 300 Electrical Discharge Machine (EDM) incorporates high-speed pulse technology based on accelerated head action and servomotor control. CNC incorporates technology tables specific to machining of ribs, while automatic program generation produces best-suited program for rib or cavity being machined. Able to operate 24/7 in unattended mode, Expert Erosion System controls entire machining of workpiece from roughing to final finishing.
---
Original Press Release:

ONA AMERICA, INC Introduces New Model DB 300 CNC Die Sinker EDM Machine


ONA AMERICA, INC., Dayton, Ohio, announces the availability of a new model, the DB 300 CNC Die-Sinker Electrical Discharge Machine (EDM). This new model incorporates a new high-speed pulse technology, which is based on faster head action and servomotor control; this new series is more efficient, especially in jobs that involve difficult flushing applications. Combined with ONA's Erosion Expert System, deeper machining is achieved while eliminating flushing problems, which results in higher precision parts being manufactured.

The new technology of the DB 300 allows it to machine deep ribs faster with more precision. The CNC incorporates technology tables specifically for the machining of ribs. The automatic program generation incorporates conversational operator input to produce the best-suited program for the type of rib or cavity being machined. In addition, the Expert Erosion System controls the entire machining of a workpiece, from roughing to final finishing. The DB 300 can operate around the clock, 24 hours a day, 7 days a week in an unattended mode.

The ONA DB 300 incorporates automatic strategy to produce the program needed for the optimal erosion process. By inputting minimum data the CNC analyzes the optimal erosion process showing the number of requested electrodes, their undersize, and automatically generates and executes the program. With automatic strategy the user can add his own information to the CNC; creating his own technology tables with automatic strategies. The systems considerably reduce the training time of the operator.

Other features of the ONA DB 300 include:

o Simultaneous 4-axis machining can be controlled for a large number of functions.

o The mechanical structure of the head is designed to eliminate vibrations produced by the fast accelerations and decelerations of the DB 300 machines. This ensures the manufacturing of precision parts.

o The DB 300 is designed to execute multiple applications through the numerous functions incorporated into the CNC.

o Angular orbiting

o Fine finish mode is standard. (VDI = 0)

o Excellent homogeneous surface finishes can be obtained on large areas.

o The base, column, head and both X and Y tables are constructed of stabilized fine grained cast iron blended with graphite in a symmetrical design to keep thermal deformation down to a minimum.

o The DB 300 is compatible with HIRSCHMANN, EROWA and SYSTEM 3R tooling systems.

o A paper cartridge filtering system is standard. The ONA Dielectric Filtering System, which offers over 10,000 working hours of filter elements life, is offered as an option.

For information or a product brochure about the DB 300 series contact:

Cynthia Martin
Operations Manager

ONA AMERICA, INC.
108 McDonough Street,
Dayton, OH 45402
Phone: 937-463-7645
Toll-free: 888-662-3367
Fax: 937-463-7636
E-mail: cynthia.martin@onaedm.com
Web: www.onaedm.com

ONA AMERICA INC. is a joint venture of ONA Electro-Erosion, S.A., Durango, Spain and GOSIGER Inc, Dayton, Ohio. Founded in Spain in 1952, ONA is the first EDM manufacturer in Europe. A producer of large-scale EDM machinery, ONA has over 10,000 machines installed worldwide. Servicing its installed base with highly trained engineers and technicians, ONA provides manufacturing solutions and after market support. Its success is directly attributed to its ongoing reinvestment in research and development, continually updating the technology and performance of ONA products.