CNC Coordinate Measuring Machine has compact footprint.
Press Release Summary: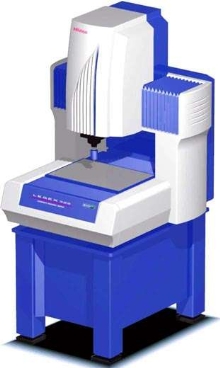 With unified, one-piece configuration, Legex® 322 offers opportunities to integrate automated measurement and inspection into processes. It measures and inspects components sized to 300 x 200 x 200 mm with accuracy of MPE
E
= (0.8+2 L/1000) µm and speeds to 200 mm/sec. Features include MCOSMOS CMM software platform, UC 200S controller, ceramic-plasma coated Y-axis machine guide rail, thermally-stable components, and real-time temperature compensation.
---
Original Press Release:

Mitutoyo Legex® 322 CNC-CMM Packs High Accuracy and Speed into Minimal Footprint


(Aurora, IL) Mitutoyo America Corporation announces availability of the new Legex® 322, a high accuracy CNC Coordinate Measuring Machine that loads enhanced performance into a compact design.

With a unified, one-piece configuration and minimal footprint, the Mitutoyo Legex 322 CMM is designed for quick and easy setup and operation - offering new opportunities to integrate automated measurement and inspection into your process - even where space is at a premium.

Designed for measurement and inspection of components sized to 300mm X 200mm X 200mm, Legex 322 combines the highest accuracy in its class (MPEE = [0.8+2L/1000µm) with high speed (200mm/sec.) to maximize productivity and lower processing costs. Typical production applications include measurement of precision metal molds and electrical discharge machining (EDM) parts as well as off-line setup of machine tools. The size and performance characteristics of Legex 322 also make it ideal for use in commercial, governmental and university laboratories.

Construction of the Legex 322 CMM employs advanced technologies to provide highest levels of accuracy and reliability. For example, FEM analysis used in the design of the Legex 322 enabled Mitutoyo engineers to ensure geometric accuracy by minimizing deformations caused by normal machine operations. Also, the integrated Y-axis machine guide rail is ceramic-plasma coated for precise performance. And, thermally-stable components plus real-time temperature compensation maintain accuracy even under extreme conditions.

The Legex 322 supports probes including contacting, scanning and touch-trigger probes as well as laser and vision probes to cover a wide range of applications.

The Legex 322 utilizes MCOSMOS (Mitutoyo Controlled Open System for Modular Operation Support), the industry's leading CMM software platform. MCOSMOS enables Legex 322 to support virtually every CAD format and offers modules for in-line measurement, data feedback and process management as well as for easy, intuitive training.


                       SPECIFICATIONS

Measuring Range              X:300mm

                             Y:200mm

                             Z: 200mm

Resolution                   0.01µm

Accuracy                     MPEE = (0.8+2L/1000) µm  Using TP7M  

Drive Speed                  200mm/sec (vector)

Acceleration                 520mm/sec² (vector)

Support Probe                TP200 / TP7M

Controller                   UC 200S

Mitutoyo America Corporation's nationwide network of Metrology Centers and support operations provide application, calibration, service, repair and educational programs for industry. This ensures that our 6,000+ metrology products will deliver measurement solutions for our customers throughout their lifetime. Contact Mitutoyo America Corporation, 965 Corporate Boulevard, Aurora, IL 60504. Phone: (630) 978-6455 Fax: (630) 820-7403
E-mail: info@mitutoyo.com Or visit our website at www.mitutoyo.com

More from Transportation Industry Products