CNC Control is suited for servo press applications.
Press Release Summary: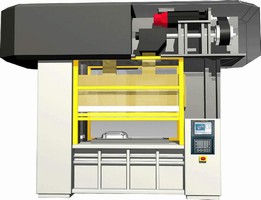 Designed for press machine manufacturers, 16i/18i-MB dedicated CNC control offers flexible motion paths and allows precise simultaneous operation of multiple GE Fanuc servo motors from Alpha iS series rated up to 230 kW. Fully programmable nano control, able to replace PLC and/or PC-based control, has customizable operator interface with open architecture PC-based front-end. Use of this network-capable product enables motion to be matched to work.
---
Original Press Release:


Series 16i/18i-MB CNC Control for Servo Press Applications




Dedicated CNC Control Specifically to Meet The Needs of Press Machine Manufacturers

CHARLOTTESVILLE, Va. - December 7, 2005 - GE Fanuc Automation, Inc., a unit of GE Industrial, is announcing the availability of a new CNC control specifically designed for press machine manufacturers. This nano control allows the precise simultaneous operation of multiple GE Fanuc large servo motors from the Alpha iS series up to 230 KW rated power and can replace a PLC and/or PC-based control currently used with a high-speed high-precision CNC.

"This is the first dedicated CNC control to be specifically targeted to the needs of the servo press manufacturer," said Paul Webster, GE Fanuc Servo Product Manager. "Servo control offers the productivity of a mechanical press with the formability of hydraulics as well as the added benefits of a simpler system, with higher precision and power saving capabilities that is environmentally friendly."

The benefits of the 16i/18i-MB CNC control include FANUC reliability, standardization, easy implementation and customization for the machine builder, accuracy and flexibility while providing impressive savings in energy consumption, and improved work conditions by lowering noise and the use of oil. Productivity is increased while the cost of operation is decreased providing a rapid return on investment.

Some of the strengths of a CNC-controlled servo press machine include:
o Control - using advanced digital drives, a full-programmable CNC makes a high degree of control possible
o Free Motion - motion can be matched to the work. Specific features for the control of a rotary link system, main gear and slide position, rotary and reverse control, speed, dwell and torque is all included
o Reliability - legendary FANUC reliability with more than eight years MTBF for the entire system and easy maintenance with detailed diagnostics and common/readily-available components
o Rapid prove-out with flexible motion paths - stroke height can be set to the minimum required and optimum speed and motion easily programmed
o Accuracy - nanometer interpolation CNC control using high-resolution feedback devices make micron level accuracy possible resulting in better parts and less scrap
o Energy savings - power line regeneration of the servo system during deceleration saves up to 50% over a hydraulic or standard electric system
o Low noise - servo control limits the noise produced and extends the die life

In addition, a fully-customizable operator interface with an open architecture PC-based front-end can be developed. The customized screens and interface back to the CNC control allow for simple setup and operation. It is also network-capable with a built-in Ethernet connection and easily obtainable data making it possible to track Overall Equipment Effectiveness (OEE).

GE Fanuc now offers four control types and servo motors from .05 to 230 KW to the servo press market, from simple ballscrew driven presses to the most complex link-type slide with die cushion control.

o 16i/18i-MB for servo press - high-end control for full functionality
o PowerMate iH Industrial CNC- simple CNC for cost-effective ball screw presses or die cushion control
o HSSB DSA - fully customizable motion controller for use with custom-designed PC-based software control
o Pulse Type DSA - motion controller for connection to PLC or PC-based pulse controllers

"Servo press machine manufacturers in Asia and Europe are already implementing these kinds of controls on a broad scale," continued Webster. "The market is demanding improved accuracy, flexibility and productivity in a machine that requires a lower cost of operation. GE Fanuc has met these requirements with this high-performance solution."

About GE Fanuc Automation
GE Fanuc Automation, a joint venture between GE and FANUC LTD of Japan, delivers automation hardware and software designed to help users reduce costs, increase efficiency and enhance profitability. With solutions and services catering to virtually every industrial segment, GE Fanuc Automation provides a diverse array of capabilities and products, including controllers, embedded systems, advanced software, motion control, CNCs, operator interfaces, industrial computers, and lasers. Headquartered in Charlottesville, VA, GE Fanuc Automation is a part of GE Industrial and combines the diverse global strengths of the GE family with the local presence customers need to design, develop and maintain their automation investments.

For more information, visit www.gefanuc.com or contact: GE Fanuc Information Center, P.O. Box 8106, Charlottesville, VA 22906, Phone: (800) GE FANUC (800-433-2682), Fax: 434-978-5205, e-mail: gefanuc@gefanuc.com.

© 2005 GE Fanuc Automation Americas, Inc. All rights reserved.


More from Software